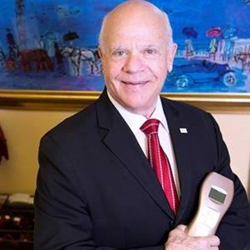 BOCA RATON, Fla. (PRWEB) June 17, 2020
Dr. Ronald Rubin, an Oral and Maxillofacial Surgeon with over 35 years of experience, is announcing that his practice is now offering the Time Laser Machine, 100% natural energy pain elimination/reduction. The laser equipment offers an innovative and non-invasive treatment option for conditions like TMJ & jaw pain, joint pain, arthritis and carpal tunnel, scar reduction, nerve pain and neuropathy, neck and back muscle injuries, mouth ulcers, full oral mucositis and more. The treatment is achieved in his office in Boca Raton and interested patients can call to schedule an appointment.
"The future of medicine from a doctor's perspective is being able to provide our patients with more care and treatment options within our own offices. As a Doctor, rather than having to tell a patient they have to(delete - go to this facility or) schedule an appointment with another doctor, the ability to take on more responsibility yourself allows you to really create a connection with the patient. Providing them pain relief has always been something that I've been very interested in. I've had patients who have been looking for ways to handle ailments and conditions such as muscle pain and spasm, and TMJ with no luck and they constantly needed to try different therapies and medications. You can't imagine the joy in finally being able to provide them with an effective solution." Dr. Ronald Rubin, Oral and Maxillofacial Surgeon.
The Time Machine Infrared Laser Series was introduced to provide a non-invasive, non-burning treatment option that helps patients who are dealing with a variety of acute and chronic conditions. Because the patient is able to feel faster results, without the use of medication or surgery, and ( delete also) requires NO downtime for recovery, they are able to make routine visits to the office and carry on with their daily routine.
"Imagine the many weeks that you had to go to the chiropractor to get an adjustment. Now, for most ailments, usually with about 6 sessions over 2-3 weeks, by using this laser machine to address the areas that need the most attention , you're out and ready to get back to work or continue with your day. That's what my patients have been looking for and I'm excited to finally be able to provide it to them."
For more information or to schedule an appointment please call: 561-368-8880
Dr. Ronald Rubin's office is conveniently located by the Boca Raton Regional Hospital in Boca Raton, Florida. His practice has provided elite successful care for patients dealing with a variety of conditions. His goal is to provide safe, affordable, effective and fast treatment options that helps his patients return to their everyday lives. If you are curious to learn more about this treatment, be sure to contact us today for more information.