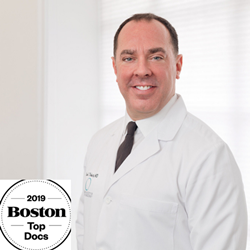 BOSTON (PRWEB) January 30, 2019
The Boston Center for Facial Rejuvenation is excited to announce that its own, Sean Doherty, MD, FACS, has been named a Top Doc for 2019 by Boston Magazine. This prestigious title is presented annually to the best physicians practicing in the greater Boston area, including general practitioners, dentists, cardiologists and plastic surgeons. This is Dr. Doherty's second time to be named as Boston Magazine's Top Doc.
Boston magazine has been providing a wealth of information for residents for more than 40 years. Every year, the magazine creates a special issue dedicated to the area's top physicians and wellness providers. This information tells readers where to go for the most trusted plastic surgery advice, medical care and safe, effective results.
To be named Top Doctor, physicians must first be nominated by their peers. To qualify for the final listing in the Best of Boston, each doctor receiving the most votes must be reviewed for their qualifications and performance ratings. Out of the thousands of providers in the area, only a select group will make the much-anticipated Top Doc issue.
Dr. Doherty is an award-winning surgeon, with a background in Art History. Board-certified by the American Board of Plastic Surgery, Dr. Doherty has extensive reconstructive and cosmetic surgery training. Focusing on the face, breasts, and body, Dr. Doherty uses his innate understanding of anatomy to create natural-looking aesthetic enhancements. He explains, "Most patients come for subtle, refined improvement on what they have. That is what I hope for them as well,". In addition, Dr. Doherty also offers a unique set of cosmetic surgery procedures tailored to the male patient, as well as a wide-variety of innovative, noninvasive procedures for both men and women.
ABOUT THE BOSTON CENTER FOR FACIAL REJUVENATION
Dr. Doherty is an associate at the Boston Center for Facial Rejuvenation, along with another of Boston Magazine's Top Doctors, Leonard Miller, MD, FACS, FRCS. With an elite team of experienced nurses and aestheticians, Dr. Doherty and Dr. Miller strive to create a welcoming environment for every patient, no matter how subtle or dramatic their cosmetic desires. It is through meticulous attention to detail and highly developed skill that Dr. Doherty and Dr. Miller can consistently bring their patients satisfying and rejuvenating aesthetic results.
For more information on any of the surgical or noninvasive procedures for men and women available at the Boston Center for Facial Rejuvenation, or to schedule a consultation with Dr. Doherty, contact the Newbury Street office at 617.450.0070. For patient convenience, Dr. Doherty has two offices, in Boston and Brookline. Additional information on the Top Doctors of 2019 can be found in Boston Magazine.