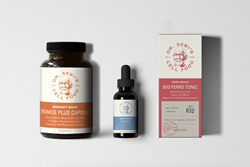 LOS ANGELES (PRWEB) October 21, 2020
Dr. Sebi's Cell Food has released a sneak-peak of the brand's newly designed logo and redesigned product packaging in a blog published on their website entitled, "A Glimpse of What's To Come."
Released as part of the brand's celebration of the 60th Anniversary of Dr. Sebi's first foray into natural healing, the logo, which has never been redesigned before, has been given a new, modern feel with a vintage vibe, consisting of a finely hand-drawn illustration of the brand's founder and a copy of his actual signature. As the blog describes, the new logo "was inspired by Dr. Sebi's infusion of traditional practices into contemporary living...Emphasizing a sense of heritage within a contemporary context."
Born Alfredo Bowman, Dr. Sebi is best known for his development of the African Bio-Mineral Balance Diet, including guidelines and nutritional supplements for an alkaline, plant-based diet. Dr. Sebi's Cell Food products include Viento, a potent mix of beneficial herbs for natural energy and Immune Support Tea, packed with the antioxidant rich elderberry, one of nature's most versatile traditional remedies.
These and all other products have been updated in a way that feel both current and earthy, featuring the newly designed, immediately recognizable logo prominently on all product packaging, and updating the browns and grays that presently dominate the products' bottles and boxes with fresh colorways set against an offwhite background, adding crispness and clarity.
Following hints that the brand will soon be releasing an exclusive collection of full spectrum hemp-CBD products, the sneak-peak of the new logo and product redesign was accompanied by another timely tease: the launch of an updated website to be released in the coming month.
About Dr. Sebi's Cell Food
Dr. Sebi's Cell Food is a distinguished producer of plant-based supplements for those seeking positive pathways to improving their lives. They offer natural botanical compounds based on the formulations of their founder, Dr. Sebi. He began creating natural plant-based compounds meant to cleanse and revitalize the cells. This led to the establishment of Dr. Sebi's Cell Food, which has continued Dr. Sebi's commitment to providing natural ways to help people live a better life. Subscribe to the Dr. Sebi newsletter at drsebiscellfood.com, or follow them on Instagram at @drsebiscellfood.