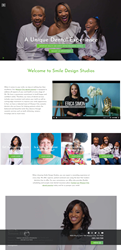 We are very excited to welcome patients to our new clinic location and continue to provide them with the superior dental care that we are known for, says Dr. Simone Ellis
MISSOURI CITY, Texas (PRWEB) July 31, 2020
As one of the most prominent and popular Houston area dental practices, Smile Design Studios has been providing residents of Missouri City, TX, with a wide range of professional dental services for many years. The recently opened office at 9303 Highway 6, Suite 300, is a state-of-the-art dental facility that is not far from the previous clinic location. Dr. Simone Ellis's modern, cutting-edge dental clinic is equipped to address all aspects of oral health at every stage of life. The new space provides a warm, comfortable environment and amenities that make the clinic feel more like a spa than a dental practice.
Smile Design Studios provides patients with top-quality general dentistry, restorative dentistry and cosmetic dentistry services, such as teeth whitening, veneers, Invisalign and so much more. The dental team offers an expansive menu of options and many advanced treatments to attain healthy, balanced and beautiful smiles. The dental professionals at Smile Design Studios stop at nothing less than excellence and offer superior, patient-centered care, using the best that modern dentistry has to offer. At Smile Design Studios, patients can expect a rewarding experience at every step. The dental clinic also provides flexible scheduling options and accepts most dental insurance plans.
"We are very excited to welcome patients to our new clinic location and continue to provide them with the superior dental care that we are known for," says Dr. Simone Ellis
More about Dr. Simone Ellis:
Dr. Simone Ellis earned her dental degree from Rutgers University School of Dentistry. She is the founder and president of the Houston Minority Dental Society and is an active member of the American Dental Association (ADA), National Dental Association (NDA), the Greater Houston Dental Society (GHDS) and is a candidate for diplomat with the American Academy of Implant Dentistry (AAID). Additionally, Dr. Simone Ellis is a certified clinical evaluator for The Clinician's Report.
For more information about Smile Design Studios Dentistry in Missouri City, TX, or to schedule an appointment, please visit http://www.sdshouston.com or call (281)-969-7388.