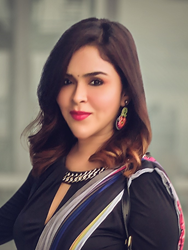 "I am ecstatic to be part of such an esteemed and influential organization. I am looking forward to learning so much from such business luminaries on the platform and the value their knowledge & expertise will add to me, my business and thereby the decisions I make." - Dr Somdutta Singh
NEW YORK (PRWEB) October 12, 2020
Dr Somdutta Singh, Founder/MD, Assiduus Global, has been accepted into the Forbes Business Council, the foremost growth and networking organization for successful business owners and leaders worldwide. Assiduus Global creates world-class private label e-commerce brands with global visibility and has a great portfolio of brands it has developed over the years in the domain of nutraceuticals, Beauty/Skincare & Lingerie.
Dr Som was vetted and selected by a review committee based on the depth and diversity of her experience. Criteria for acceptance include a track record of successfully impacting business growth metrics, as well as personal and professional achievements and honors.
"We are honored to welcome Dr Somdutta Singh into the community," said Scott Gerber, founder of Forbes Councils, the collective that includes Forbes Business Council. "Our mission with Forbes Councils is to bring together proven leaders from every industry, creating a curated, social capital-driven network that helps every member grow professionally and make an even greater impact on the business world."
As an accepted member of the Council, Dr Som has access to a variety of exclusive opportunities designed to help her reach peak professional influence. She will connect and collaborate with other respected local leaders in a private forum and at members-only events. Dr Som will also be invited to work with a professional editorial team to share her expert insights in original business articles on Forbes.com, and to contribute to published Q&A panels alongside other experts.
Finally, Dr Som will benefit from exclusive access to vetted business service partners, membership-branded marketing collateral, and the high-touch support of the Forbes Councils member concierge team.
"I am ecstatic to be part of such an esteemed and influential organization. I am looking forward to learning so much from such business luminaries on the platform and the value their knowledge & expertise will add to me, my business and thereby the decisions I make," adds Dr Somdutta Singh
ABOUT FORBES COUNCILS
Forbes Councils is a collective of invitation-only communities created in partnership with Forbes and the expert community builders who founded Young Entrepreneur Council (YEC). In Forbes Councils, exceptional business owners and leaders come together with the people and resources that can help them thrive.
To learn more about Forbes Councils, visit forbescouncils.com
ABOUT ASSIDUUS GLOBAL
Founded by Dr Somdutta Singh with its offices in US, India & Manila Assiduus Global owns multi-million-dollar brands across verticals like nutraceuticals, beauty/wellness and lingerie. In addition to this, backed by home-bred cutting-edge technology, Assiduus partners with Fortune 500 Companies and mid-size consumer brands to scale them by becoming their exclusive global distribution and supply chain partner on E-commerce. Think E-commerce, Think Us!