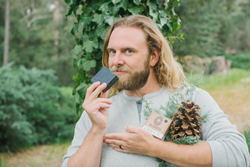 "Through our amazing partnership with Dr. Squatch, we've been successful in creating a brand where people not only love the product, but they look forward to receiving and watching the ads." - Jacques Spitzer, Raindrop CEO
SAN DIEGO (PRWEB) August 21, 2020
Dr. Squatch, a California-based natural soap and personal care company, landed the No. 1 spot on YouTube's 2020 "TrueView for Action" Advertising Leaderboard. The winning video—"Save Your Skin With Dr. Squatch Soap"—has more than 90 million views and was created in partnership with Raindrop, a leading San Diego-based creative and performance marketing agency. This special edition of the YouTube Ads Leaderboard, on Think with Google, features the top direct-response ads for 2020. The top ads were determined by an algorithm that factors engagements with the features of the format: total reach and clicks.
The five-minute winning video, titled "Save Your Skin With Dr. Squatch Soap" emphasizes a more approachable and modern sense of self-care for men, in a fresh and tongue-in-cheek voice. Dr. Squatch and Raindrop's approach to content is to leverage humor and entertainment, while weaving in information about men's personal care and health that is accessible.
"When we began working with Dr. Squatch in 2017, we had big dreams of what the brand could and would be, and to have our content land the No. 1 spot on YouTube's Ads Leaderboard is such an incredible feeling," said Jacques Spitzer, CEO of Raindrop. "Through our amazing partnership with Dr. Squatch, we've been successful in creating a brand where people not only love the product, but they look forward to receiving and watching the ads. What we do with Dr. Squatch is more than advertising—it's 'edu-tainment'—and we are proud of the impact it's had."
As Dr. Squatch's creative partner, Raindrop has helped hone the brand by writing, producing, filming and editing award-winning video content, fronted by comedian James Schrader and Michael Langsdale. Additionally, Raindrop has helped increase the brand's revenue by 20 times in under three years. The first video Raindrop created for Dr. Squatch is the highest converting ad unit in Dr. Squatch history in terms of Return on Ad Spend (ROAS) and has more than 150 million views across various social media platforms.
"The first video Raindrop created for us really put us on the map as a company," said Dr. Squatch founder and CEO Jack Haldrup. "Since 2017, we've had 20 times the sales volume on a monthly basis, and I have to give Raindrop a lot of credit for that. Raindrop has an amazing team—they adapt to your needs and take a unique approach, while providing real value and experience."
Recently, Raindrop has helped clients to scale by $200+ million in revenue, generate over 350 million views across channels and has won two Emmy Awards. The agency has successfully scaled brands by 4 times, 10 times and 20 times, and has achieved record sales with engaging social advertising creative for clients including WORX, Omigo, Crossrope, William Painter, Shady Rays, HoneyBug and more. As the company continues to grow, its overall goal remains the same: to continue to build meaningful relationships and take clients to the next level.
About Raindrop
Raindrop is a full-service creative and performance marketing agency that believes in the power of integrating creative, media and strategy under one-roof. Founded in 2009, the company has built an industry-leading team that handles a wide-range of services including content creation, web design, conversion rate optimization (CRO), brand strategy, social media, design, influencer marketing, public relations, photography and media planning and buying. Located in San Diego's Little Italy neighborhood, Raindrop is rooted in the belief that real growth and impact comes from building relationships. To see examples of success stories and learn more about Raindrop, visit http://www.raindropmarketing.com.