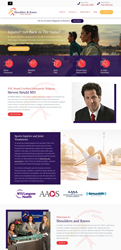 "It is a privilege to present at the AAOS annual conference. The exchange of knowledge between medical professionals makes us all better at what we do," says Dr. Steven Struhl.
NEW YORK (PRWEB) March 22, 2022
As the premier conference of the year for orthopedic surgeons, The 2022 Annual AAOS meeting will be attended by 5000-10,000 doctors from around the U.S. and internationally. It will take place on March 22-26, 2022, with Dr. Steven Struhl's presentation "A Comparison of Second Generation Needle Arthroscopy with MRI as a Primary Diagnostic Tool for the Evaluation of Shoulder and Knee Pain" taking place on Wednesday afternoon, March 23rd. It is a huge honor for Dr. Struhl's work to be chosen for inclusion, as the selection is a highly competitive process in which less than 10% of submissions are accepted.
Renowned orthopedic surgeon, Dr. Struhl, will highlight his experience and expertise in using the innovative IntraVu arthroscopic needle imaging technology as a diagnostic tool to assess knee and shoulder pain. Advantages for the patient over an MRI include a faster process and a live view of the area under evaluation. Although an MRI provides detailed images of the soft tissue, the images require a radiologist to interpret. The IntraVu scope provides crystal clear images and video which enable any patient to easily become empowered to be a part of their therapy through easy-to-understand visuals. The needle scope can be inserted while the patient is awake and aware, creating live images they can see on a digital monitor in minutes. With the device, immediate images can be retrieved in an office setting for diagnosing orthopedic conditions and performing certain types of procedures.
During the presentation, Dr. Struhl will directly compare Needle Arthroscopy to MRI for the purpose of diagnosing knee and shoulder pain and he will show that the Needle Scope is much more accurate. This means patients will benefit by avoiding unnecessary surgery on cases where the MRI was wrong. Patients can abstain from years of prolonged, unhelpful therapy for tears that are there but missed by MRI.
"It is a privilege to present at the AAOS annual conference. The exchange of knowledge between medical professionals makes us all better at what we do," says Dr. Steven Struhl.
More about Dr. Steven Struhl:
Dr. Struhl is board certified in both orthopedic surgery and sports medicine/arthroscopic surgery and has been in private practice for over 22 years. He graduated from MIT and earned his medical degree from the University of California San Francisco. Dr. Struhl completed his residency in orthopedic surgery at Montefiore Medical Center in New York and a fellowship in sports medicine at Penn State University. He is a fellow of the American Academy of Orthopedic Surgeons and a member of the Arthroscopy Association of North America. Dr. Struhl is currently on faculty at NYU Medical School and is a member of the teaching staff at the Hospital for Joint Diseases. He has authored numerous peer-review articles, and his research has been presented both nationally and internationally. Dr. Struhl has served as a medical consultant for the US Open tennis tournament and medical director for Sportscare Physical Therapy, official physical therapists for the Brooklyn Nets. To schedule an appointment with Dr. Struhl at his Shoulders & Knees orthopedic practice, call (212) 207-1990 for the Manhattan clinic or (914) 328-4111 for the White Plains, NY, location or visit http://www.shouldersandknees.com.