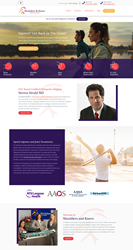 It is such an honor to receive this award due to the excellent reviews left by my actual patients. It is very rewarding to help my patients get back to playing the sports and activities they love, says Dr. Steven Struhl
NEW YORK (PRWEB) April 27, 2021
Dr. Steven Struhl is a well-respected, board-certified NYC orthopedic surgeon and sports medicine specialist. Dr. Struhl is known as one of the leading AC Joint Repair Specialists in the Country. His exceptional reviews through reputable online sources have helped him earn this distinguished award from Find Local Doctors. Find Local Doctors is a user-friendly online directory, helping consumers connect with skilled physicians in their area who are well known for their expertise.
Dr. Struhl has treated patients from all walks of life, from the professional athlete with a sports injury to those requiring knee replacement surgery due to advanced arthritis. Shoulder and knee joint injuries or degenerative conditions can limit mobility and enjoyment of life. Dr. Struhl's Shoulders & Knees orthopedic offices in NYC and White Plains, NY, offer innovative treatments for shoulder and knee pain relief, including the latest in minimally invasive and interventional medicine. When surgery is required, Dr. Struhl prefers the least invasive options to speed up recovery and improve the overall experience for his patients. In all cases, Dr. Struhl and his team offer a quick diagnosis and treatment plan progression to quickly find the right treatment that will give relief and recovery. Dr. Struhl performs all his treatments and procedures in state-of-the-art medical facilities, using the most advanced technology and imaging technology, such as the IntraVu needle scope. He also invented an implant for AC joint reconstruction and owns a US patent on the implant.
"It is such an honor to receive this award due to the excellent reviews left by my actual patients. It is very rewarding to help my patients get back to playing the sports and activities they love," says Dr. Steven Struhl
More about Dr. Steven Struhl:
Dr. Struhl is board certified in both orthopedic surgery and sports medicine/arthroscopic surgery and has been in private practice for over 29 years. He graduated from MIT and earned his medical degree from the University of California San Francisco. Dr. Struhl completed his residency in orthopedic surgery at Montefiore Medical Center in New York and a fellowship in sports medicine at Penn State University. He is a fellow of the American Academy of Orthopedic Surgeons and a member of the Arthroscopy Association of North America. Dr. Struhl is currently on faculty at NYU Medical School and is a member of the teaching staff at NYU Langone Orthopedic Hospital. He has authored numerous peer-review articles and his research has been presented both nationally and internationally. Dr. Struhl has served as a medical consultant for the US Open tennis tournament and medical director for Sportscare Physical Therapy, official physical therapists for the Brooklyn Nets.
To learn more or schedule an appointment with Dr. Struhl at his Shoulders & Knees orthopedic practice, call (212) 207-1990 for the Manhattan office or (914) 328-4111 for the White Plains, NY, location. You can also visit http://www.shouldersandknees.com for more information.