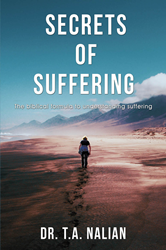 "The objective of this book is to form in you a persevering faith. A faith that will cause you, through great resolve, to pursue and embrace God, who will bring to pass for you a wonderful eternal consolation, which was born out of all your suffering."
ORTONVILLE, Mich. (PRWEB) March 21, 2020
People suffer, it happens for a reason, and that reason is not God. According to the author, God is not the reason why people suffer, but it is God who will lead His people out of suffering. Suffering is a mere by-product of man's greed and foolishness, the result of which is a complex chain reaction of misery that spreads to and affects others. Those who do no understand become bitter and blame God; those who see God as a Savior instead of punisher know that God is not reason behind suffering.
Suffering is something the author, Dr. T.A. Nalian, is quite familiar with. It is also something that took him years to finally grasp why it should happen. But while suffering results from wrong choices, it is important to understand some people suffer not because of their own mistakes. Sharing his story of growing up in a dysfunctional family, the author paints a tragic picture of suffering inflicted by an extremely abusive and alcoholic father. A life filled with misery and despair followed him well into his adulthood until he found Christ and his faith blossomed; it was then when suffering turned into life lessons.
In his book, Dr. T.A. Nalian delves into the biblical concept of suffering and how salvation of mankind was made possible through the suffering of Jesus Christ on the cross. Just as people were emancipated from their sins when Christ first walked among men, it is still through Christ that humanity can be freed from their misery. The author also shares carefully chosen biblical verses that shed light on the subject of suffering. Most importantly, the author walks the readers through how God would like His followers to respond to circumstances during hard times; that is by trusting in His Word and His promise for only He can lead His people to a victorious battle against suffering and pain.
The author states, "The objective of this book is to form in you a persevering faith. A faith that will cause you, through great resolve, to pursue and embrace God, who will bring to pass for you a wonderful eternal consolation, which was born out of all your suffering."