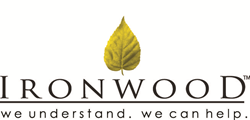 We appreciate Dr. Thayne's presentation at Ironwood that was so very relevant for parents wanting to do all that they can during and after their loved one's time at Ironwood. Not By Chance is an important book that we hope every Ironwood parent will read as part of their role in this therapeutic pro
MORRILL, Maine (PRWEB) August 06, 2018
Ironwood Maine, a licensed and accredited Residential Therapeutic School for struggling teens in Maine, welcomed Dr. Tim Thayne, author of the book Not By Chance, to its summer, family weekend. Dr. Thayne spoke about the keys to boosting family success in and after treatment.
While speaking to the more than 60 parents of Ironwood Maine residents, Dr. Thayne said that positive outcomes flow from thoughtful engagement, while knowing and avoiding the parental traps, tests and triggers. Dr. Thayne added that there should be, "no more rolling of the dice," as Ironwood families want to do whatever they can to make things better with the ones they love the most. Dr. Thayne affirmed Ironwood Maine's principles to family success: unity, cooperation and alignment.
Ironwood Maine's family weekends offer a unique opportunity for family members of Ironwood residents to see first-hand how far they and their loved ones have come and what can be done next to achieve family success. Family weekend offers incredible opportunities for growth and learning, around the beautiful Ironwood Maine campus in Morrill, Maine. Ironwood Maine residents and their family members have a chance to problem solve and better understand their unique perspectives over a weekend, free from the distractions and responsibilities back home.
Wes Horton, Ironwood Maine's President, said of Dr. Thayne's presentation at Family Weekend, "We appreciate Dr. Thayne's presentation at Ironwood that was so very relevant for parents wanting to do all that they can during and after their loved one's time at Ironwood. Not By Chance is an important book that we hope every Ironwood parent will read as part of their role in this therapeutic process."
About Ironwood Maine
Ironwood Maine is a licensed Residential Therapeutic School for struggling teens located in the scenic countryside of mid-coast Maine. Ironwood welcomes struggling teens and their families into a safe and therapeutic learning environment. Ironwood can be contacted by phone at 207-342-3655 or by email at wesh(at)ironwoodmaine(dot)com. Visit the Ironwood Maine website: https://www.ironwoodmaine.com/
About Dr. Tim Thayne
Dr. Tim Thayne's 25 years in family systems work includes solution focused coaching and curriculum for large health care organizations, as well as owning teen wilderness and residential treatment programs. Frustrated by high rates of relapse, in 2006 he founded Homeward Bound (http://www.homewardbound.com) to help everyone transition the gains made in treatment to the real world again. Since then, his book Not By Chance, (http://www.notbychance.com), presentations, and the treatment engagement platform, Rallyest (http://www.rallyest.com), combine to boost the long-term success of behavioral and mental health treatment by effectively rallying and utilizing the strength of a student's family and natural network of support.