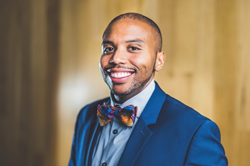 SANTA MONICA, Calif. (PRWEB) February 07, 2023
TerraScale, a five-time award-winning green development, infrastructure and finance firm formed with the goal of accelerating the transition to a more sustainable planet, today named Dr. Todd Jenkins as senior advisor on its Advisory Board. Dr. Jenkins will serve under the leadership of LT General Honoré (Ret.), Chairman of TerraScale's Advisory Board.
Dr. Jenkins brings more than fifteen years of experience as a managing partner and chief diversity and inclusion executive, trainer and strategist. He is the Founder of Bowtie Leadership and Development, Inc. His portfolio includes clients from various non-profits, small businesses, colleges and universities, and large corporations such as WalMart Inc., Verizon, NASA, Coca-Cola Inc, Tyson Foods, Inc., Kellogg's, AT&T, Deloitte, Inc, Black Hills Energy Inc., Facebook, American Airlines, Amazon, Google, U.S Soccer Federation, and Starbucks to name a few. In addition, Dr. Jenkins has experience as a DEI executive for a fortune 100 company and DEI leader in various sectors such as supply chain, retail, technology, and commercial real estate.
"Dr. Jenkins is a highly respected leader who has worked with numerous global organizations to improve the performance of their teams, develop leadership skills and promote diversity and inclusion in the workplace," said Danny Hayes, TerraScale co-founder and CEO. "We look forward to working closely with Dr. Jenkins and are extremely honored to have him on our team. As our company continues to grow, it will certainly benefit from his leadership, insights and expertise."
At TerraScale, Dr. Jenkins' primary responsibilities will include oversight of TerraScale's deal and partnership pipeline and cultivation of strategic partnerships. He will also advise TerraScale on workplace inclusivity and diversity.
"TerraScale is tackling some of the greatest challenges facing our planet, such as climate change, environmental degradation and growing demands for data. I am excited to be part of TerraScale's ongoing growth trajectory," said Dr. Jenkins. "I look forward to contributing my expertise to support the TerraScale team's plans."
Dr. Jenkins is an alumnus of The University of South Carolina, where he graduated with honors and obtained a Bachelor of Science in Experimental Psychology. He earned his Master of Science from Illinois State University and a doctorate from the University of Arkansas. Additionally, Dr. Jenkins completed his postdoctoral studies at Harvard University and was recently appointed as Senior Researcher at Harvard Business School. Throughout his professional career, Dr. Jenkins has served on multiple boards in his local community, colleges, and universities, within the brotherhood of Alpha Phi Alpha Fraternity, Inc., and internationally through global organizations such as Rotary International.
Dr. Jenkins was named a 2022 and 2021 DEI Champion Awardee by the National Diversity and Leadership Council. In January 2020, Dr. Jenkins received recognition as a Top 25 Influencer in Business. In 2019, he was selected as one of the Top 100 Diversity and Inclusion Executives under 50 by DiversityMBA magazine, "40 under 40" by Arkansas Business Journal, Top 12 of Ones to Watch by Celebrate Magazine in 2017, the Rodney Momon Award recipient, Paul Harris Fellow, and included in the "30 under 30" 2016 list of Top Minority-Owned Businesses. He has been featured and contributed to several research, articles, and podcasts around building inclusion and engagement within organizations and communities.
About TerraScale:
TerraScale is a green technology and infrastructure development company reinventing the future of global sustainable development models. TerraScale places green energy, digital infrastructure and cybersecurity at the center of its infrastructure projects and solutions. Bringing together the best-in-class partners and service providers across technology, green engineering, cybersecurity, real estate, energy, construction firms and more, TerraScale modernizes businesses and communities around the world - creating solutions and infrastructure that are future-proofed. TerraScale's Project Energos is the winner of five prestigious design and architecture awards.
For more information, visit https://terrascale.org.