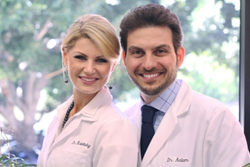 "These revolutionary devices will ensure more accurate diagnoses, safer procedures, and reduced office time all while helping deliver the best periodontal experience possible at the CENTER," said Dr. Krivitsky
Los Angeles, CA (PRWEB) April 04, 2017
The CENTER for Advanced Periodontal & Implant Therapy, run by the wife-and-husband team of Dr. Alina Krivitsky and Dr. Alexandre-Amir Aalam, is dedicated to providing the latest in cutting-edge therapies designed to help keep patients smiling brightly. The board-certified LA periodontists are happy to announce the arrival of innovative new machines that will light up any smile. As the first periodontist in the U.S. to be trained in and to perform one such procedure, advanced platelet-rich fibrin (APRF) with stem cell treatment Dr. Aalam has exclusive experience with such state-of-the-art dental options. Platelet-rich procedures have been common in dentistry for over a decade, yet many patients are surprised to learn this since most media coverage surrounds its use in sports medicine.
As Dr. Krivitsky said, "Many people, especially in Los Angeles, know about platelet-rich therapy because area basketball legend Kobe Bryant underwent platelet-rich procedures for his ailing knees while he was still playing. In periodontal care, advanced platelet-rich fibrin therapy has made my work more enjoyable because it helps our patients heal more quickly and get more rejuvenating results. Yet, I'm also looking forward to the new products we're bringing on because they're going to enhance our patients' experiences even more."
Another advanced periodontal care device is the Planmeca ProMax® 3D, the latest in advanced imaging designed to improve maxillofacial diagnostics. Using ultra-low dosage creating a three-dimensional and detailed image of a patient's virtual skull, teeth, upper and lower jaws, and even air passages. This will allow the doctors to diagnose and plan a safe and predictable surgery for our patients
"The Planmeca ProMax® 3D family brings safe, simple, and quick imaging protocol to dental and ear, nose, and throat diagnoses. Its technology is so advanced that it emits a lower dosage than a conventional 2D panoramic imaging device yet delivers almost inconceivably superior image quality and detail," Dr. Aalam said. "But it's not the only cutting-edge imaging device we're bringing on."
The TRIOS® intraoral scanner, which eliminates molding forever because it creates detailed optical impressions digitally, which are confirmed on the spot and then immediately emailed to a lab for crown and restoration fabrication all while the patient is still in the chair. This technology will allow to achieve desired optimal results more quickly and precisely. To find out more about these and other periodontal procedures, please visit http://ImplantPerioCenter.com/Periodontal-Disease.
Guided Implant Surgery. Combining the 3D images and the surgical planning on a special software that will show the future position of the teeth that are to be replaced, we are able to fabricate a surgical template that are custom made to our patient anatomy and will allow the doctors to place implants into perfect prosthetic positions. This eliminates all the mistakes that can occur during free handed surgeries.
"We are excited to acquire these new devices because they're designed to lessen discomfort and recovery time as well as increase safety and effectiveness for our patients," Dr. Krivitsky added. "Because our priority is to make the whole process a positive one for our patients, it's always beneficial when innovations in treatment or therapy help us do that. These revolutionary devices will ensure more accurate diagnoses, safer procedures, and reduced office time all while helping deliver the best periodontal experience possible at the CENTER."
Dr. Alexandre-Amir Aalam and Dr. Alina Krivitsky are board certified Brentwood periodontists specializing in dental implants and gum and tissue diseases. They opened the CENTER, a periodontal office focused on providing patients with excellent and skilled care at affordable prices, with the goal of restoring oral health and aesthetic appearance. They are alumni of the prestigious Ostrow School of Dentistry at USC and are still heavily involved in academia and giving back to future periodontists at USC. They are also the only two board-certified periodontists in the Brentwood area of Los Angeles.
To schedule an appointment at the CENTER for Advanced Periodontal & Implant Therapy, call (310) 299-8329 today or visit our website http://ImplantPerioCenter.com/
CENTER for Advanced Periodontal & Implant Therapy
11620 Wilshire Blvd #718
Los Angeles, CA 90025
(310) 299-8329
Dr.AalamInquiry(at)gmail(dot)com