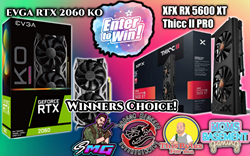 CARLSBAD, Calif. (PRWEB) August 04, 2020
Right now until September 5th 2020 you can enter for a chance to win an eVGA GeForce RTX 2060 KO Ultra or a XFX RX 5600 XT Thicc II PRO computer graphics card, this prize has a $300 estimated retail value and the winner may substitute the Graphics card for $300 PayPal payment if they prefer instead. This giveaway is open Internationally, but the GPU can only be shipped to a United States local address, International winner must choose the PayPal payment option of prize delivery.
You can enter the giveaway at DragonBlogger.com or directly Here.
About the prizes:
eVGA GeForce RTX 2060 KO Ultra
The EVGA GeForce RTX 20-Series Graphics Cards are powered by the all-New NVIDIA Turing architecture to give you incredible New levels of gaming realism, speed, power efficiency, and immersion. With the EVGA GeForce RTX 20-Series gaming cards you get the best gaming experience with next generation graphics performance, ice cold cooling, and advanced overclocking features with the all New EVGA Precision X1 software. The New NVIDIA GeForce RTX GPUs have reinvented graphics and set a New bar for performance. Powered by the New NVIDIA Turing GPU architecture and the revolutionary NVIDIA RTX platform, the New graphics cards bring together real-time ray tracing, artificial intelligence, and programmable shading. This is not only a whole New way to experience games – this is the ultimate PC gaming experience.
The AMD Radeon RX 5600 XT graphics card is designed for the ultimate 1080p gaming experience Turn up your settings for higher fidelity and boost gaming performance for higher frame rates with ultra-fast response times Get the power of the highly acclaimed RDNA architecture the heart of AMD's advanced 7nm technology process as well as GDDR6 high-speed memory and PCI Express 4 0 support delivering a highly responsive ultimate 1080p gaming experience.
Dragon Blogger which launched their live streaming Twitch channel known as Dragonbloggers in June 2019 also features a reward system where random PC Steam games are given out daily to people who enter through the daily raffle system and anyone can join with no purchase necessary. This community of streamers currently features several people and operates as a true variety channel not only with what types of games are streamed but the entertainers/streamers themselves as well.
DragonBlogger.com is also known for giving away prizes on a monthly basis with values ranging from $50 to $300 dollars as well as providing hands on gadget reviews and covering recent tech and gaming content as well.
About Dragon Blogger Technology and Entertainment
Dragon Blogger Technology and Entertainment, is an Internet media brand focused on technology, video games and entertainment. Dragon Blogger publishes content on numerous platforms including daily games streams on https://www.twitch.tv/dragonbloggers and Product Review/Game Content on https://www.youtube.com/dragonblogger with the main site https://www.dragonblogger.com containing everything covering tech, video games and entertainment. Established in 2008, Dragon Blogger became a multi-contributor site in 2012 and has a team of content creators, live streamers and even runs The Dragon Cast podcast found on iTunes, Google Play and Spotify.
About ThisBytesForYou
Deeply rooted in PC and gaming technology working as a product development engineer for 14+ years for the largest boutiques and OEM builders with a foundation in gaming. ThisBytesForYou's passion is for PCs and PC Tech and it shows in everything we do. This page aims to bring you all things PC Tech, gadgets, tablets, consoles, PCs and Desktops including support for them as well, it's a community. ThisBytesForYou's operations can be found on https://www.youtube.com/ThisBytesForYou