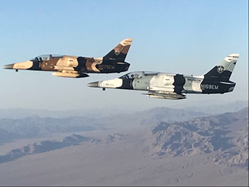 "At Draken we are committed to providing safe, credible and challenging Contract Air Services to the USAF"
LAKELAND, Fla. (PRWEB) October 03, 2019
Draken International, LLC, the leading provider of 4th generation tactical flight services, has achieved yet another milestone during the month of September by reaching a new record high of total flight hours flown in support of USAF combat readiness training. Draken flew 633 hours providing realistic threat representation in contested environments that directly supported the USAF Weapons School, F-16 Formal Training Units at Holloman AFB as well as F-15E combat training at Mountain Home AFB. Missions performed by Draken included Offensive Counter Air sorties that resulted in 16 Draken fighters challenging 4 F-22 Raptors operated by the 433rd Weapons Squadron.
The financial impact of Draken's commercial air services supporting the USAF Warfare Center's missions resulted in estimated savings of tens of millions of dollars during the month of September alone. The Nellis AFB Adversary Air (ADAIR) program performed by Draken currently supports 10 ACC and AETC bases throughout the US to include Red Flag-Alaska exercises hosted by Eielson AFB.
"At Draken we are committed to providing safe, credible and challenging Contract Air Services to the USAF," stated Leonard Dick, Vice President of Flight Operations. "Our purpose is to allow combat forces to focus solely on conflict simulation, which ultimately enhances readiness for our military."
With over 100 fighter aircraft, Draken International operates numerous fleets of credible, safe, and sustainable military fighters including the A-4 Skyhawk, L-159 Honey Badge, Mirage F-1, and Cheetah. Draken's 8,000+ flying hour program for 2019 currently supports the 57th Wing at Nellis AFB in addition to many other operational Air Force Bases across the US.
About Draken International
Based in Lakeland, Florida, Draken International has set a new standard in tactical flight support. The company's fleet of aircraft are used to support various types of military training objectives around the globe, providing a tremendous cost savings over the use of traditional military fighter assets. For additional information, visit http://www.drakenintl.com.