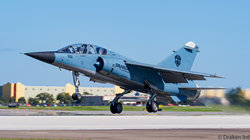 "This inaugural flight of our Mirage F1s is just the beginning,"
LAKELAND, Fla. (PRWEB) November 15, 2019
Draken International successfully completed the maiden voyage of its first regenerated Mirage F1 on November 12 at Lakeland Linder International Airport, Lakeland, FL. The supersonic, radar-equipped F1 is one of 24 ex-military fighter aircraft currently being regenerated by Draken assisted by Paramount Aerospace Systems (a subsidiary of Paramount Group). The former Spanish Air Force F1 fleet will soon join Draken's 11 A-4 Skyhawks and 18 L-159 Honey Badgers that currently support the USAF out of Nellis AFB.
With the acquisition of 24 Mirage F1s and 12 Denel Cheetahs back in the Spring of 2018, Draken looks forward to operating all 36 advanced fighter aircraft on DoD contracts in 2020. With the recent award of the USAF's $6.4 Billion Combat Air Forces Adversary Air contract, Draken will continue to grow in an effort to provide comprehensive solutions that enhance our military's combat readiness training.
"This inaugural flight of our Mirage F1s is just the beginning," stated Sean Gustafson, Vice President of Draken International. "Draken is fully committed to advancing the industry and delivering a service that provides safe, credible, and realistic threat replication."
About Draken International
Based in Lakeland, Florida, Draken International has set a new standard in tactical flight support. The company's fleet of aircraft are used to support various types of military training objectives around the globe, providing a tremendous cost savings over the use of traditional military fighter assets. For additional information, visit http://www.drakenintl.com.