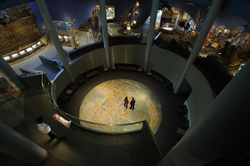 "We are interested in proposals with a trans-boundary approach, recognizing that effective biodiversity conservation crosses geo-political/jurisdictional, academic disciplinary, and economic and social boundaries."
CODY, Wyo. (PRWEB) February 02, 2019
The Buffalo Bill Center of the West's Draper Natural History Museum announces a Call for Proposals for the 2019 Camp Monaco Prize. A joint project of the Draper Museum and the Prince Albert II of Monaco Foundation, the $100,000 award seeks to stimulate scientific exploration and public education that expands the knowledge and understanding of biological diversity in Greater Yellowstone. The deadline for proposal submissions is no later than April 15, 2019.
Through the prize, the partner organizations—both dedicated to the conservation of native biodiversity—seek to foster concrete actions to safeguard biodiversity in conjunction with continued social and economic development. The successful project must be conducted in the Greater Yellowstone Ecosystem and should reach for global implications.
The Camp Monaco Prize is named for a hunting camp that Prince Albert I of Monaco and William F. "Buffalo Bill" Cody established near Yellowstone Park in September 1913. Awarded on a triennial basis, the inaugural prize was announced in 2013 on the 100th anniversary of that trip; the second was awarded in 2016. The 2019 Camp Monaco Prize winner will be announced by June 1.
As Jury Chair Dr. Charles R. Preston notes in the Call for Proposals, "We are interested in proposals with a trans-boundary approach, recognizing that effective biodiversity conservation crosses geo-political/jurisdictional, academic disciplinary, and economic and social boundaries." Preston is the Founding Curator of the Draper Natural History Museum, and soon transitions from his current position of Willis McDonald IV Senior Curator of Natural Science to Senior Curator Emeritus and Senior Scientist at the Center of the West.
View the full Call for Proposals, with details on selection criteria and submission guidelines, at centerofthewest.org/CampMonacoPrize-call. Submit proposals via e-mail to bonnies@centerofthewest.org no later than April 15, 2019. Questions in advance of submission may be directed to cpreston@centerofthewest.org.
The jury created to review proposals is made up of a highly distinguished, international assembly of scientists, scholars, public officials, and public outreach professionals. While the winning proposal will be announced by June 1, 2019, the prize will be awarded at the Buffalo Bill Center of the West, in the presence of officials representing the partner organizations, in September 2019.
For more information on the Camp Monaco Prize, visit centerofthewest.org/CampMonacoPrize-call.
*****
Since 1917, the award-winning Buffalo Bill Center of the West in Cody, Wyoming, has devoted itself to sharing the story of the authentic American West. The Center, an affiliate of the Smithsonian Institution, is currently operating its winter schedule, open 10 a.m. – 5 p.m. Thursday – Sunday. For more information, visit centerofthewest.org or the Center's pages on Facebook and Twitter.
Contacts:
Dr. Charles R. Preston at - mailto:charlespreston@centerofthewest.org or 307-587-3223.
Lynn Rodgers at lynnr@centerofthewest.org or 307-578-4045.