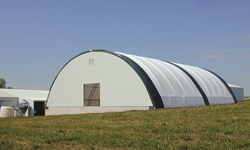 SOUTH WINDSOR, Conn. (PRWEB) March 06, 2019
FarmTek is pleased to announce a special in-house financing offer for the month of March. Customers can qualify for as low as $0 down, 0% interest for up to 48 months on all fabric building purchases. This opportunity allows businesses to pursue projects that will increase productivity and profitability, while also enabling them to receive a building when they need it most.
Customers who qualify will receive exceptional in-house financing terms on their order and special opportunities to save, as they will not encounter the traditional 5.99% interest rate associated with financing. With the potential for no down payment and an unbeatable interest offer, FarmTek becomes the obvious choice when purchasing a fabric structure.
Financing is done completely in-house, so customers will experience a streamlined buying process, allowing them to receive their order in a timely fashion. FarmTek is dedicated to providing the best service and shopping experience, eliminating the headache of dealing with outside lenders or delays from waiting for approval through an external party.
FarmTek's structures are an economical building solution with fast construction timelines, allowing customers to get their business covered sooner. Shipping and freight can also be financed, so customers have the potential to experience absolutely no upfront costs on their purchase when electing to install their building themselves. FarmTek can also offer installation services on all buildings, which are excluded from the financing offer.
Fabric structures from FarmTek are the solution businesses need, providing temporary or permanent coverage and easy relocation options. FarmTek's buildings can be built up to 300' wide and to any desired length, meaning customers can acquire their largest and most ambitious building projects through this special financing.
FarmTek structures utilize a translucent cover to allow natural sunlight to filter through, which eliminates the need for daytime lighting and reduces energy usage to lower monthly utility expenses. Made with only high-quality materials to ensure longevity, FarmTek's most durable buildings feature triple-galvanized steel frames to prevent corrosion in the most extreme outdoor conditions and a durable, rip-stop woven fabric cover. FarmTek serves every need across numerous industries, providing expansive space and coverage for manufacturing facilities, equestrian riding arenas, vehicles and commercial machinery, aggregate storage and so much more.
FarmTek has been the industry-leading supplier of agricultural materials and building solutions for 40 years. Fabric buildings, greenhouses, environmental control systems, and livestock supplies are just a few items within FarmTek's wide selection. With over 30,000 products to choose from, customers are sure to find everything to fulfill their hobby or business needs all in one place.
Shop buildings and supplies on the FarmTek website today, at http://www.FarmTek.com.