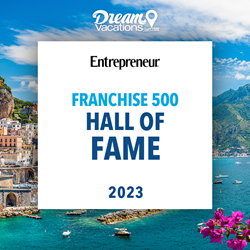 "To be a member of the inaugural Hall of Fame class is such an incredible recognition," said Drew Daly, senior vice president and general manager of Dream Vacations. "This esteemed accolade speaks to not only the staying power of the brand, but the innovation and drive to improve."
FORT LAUDERDALE, Fla. (PRWEB) March 15, 2023
Dream Vacations was named to Entrepreneur's first-ever Franchise 500® Hall of Fame list, published in the March/April 2023 issue of Entrepreneur magazine, and on Entrepreneur.com. This prestigious list honors the elite franchise brands that have ranked in Entrepreneur's Franchise 500 ranking for 25 or more years consecutively. Dream Vacations earned its place in the Hall of Fame by ranking in every Franchise 500 for the last 26 years.
"To be a member of the inaugural Hall of Fame class is such an incredible recognition," said Drew Daly, senior vice president and general manager of Dream Vacations. "This esteemed accolade speaks to not only the staying power of the brand, but the innovation and drive to improve. I want to dedicate this milestone to our talented network of franchise owners, associates, and headquarters staff."
Entrepreneur's Franchise 500 has been evaluating and ranking franchise opportunities for 44 years. The company's proprietary ranking formula analyzes brands based on more than 150 data points in the areas of costs and fees, size and growth, franchise support, brand strength, and financial strength and stability. The ranking grows more competitive each year – 1,321 companies applied for a chance at a spot in the top 500 in 2023 – and only 49 franchise brands have managed to rank every year for the last 25 years or more, and thus earn a spot in
the 2023 Hall of Fame.
"We're honoring these A-list brands who have shown through and through their commitment to growth, to their franchisees, and to their communities," said Entrepreneur Senior Vice President of Franchising Liane Caruso. "Ranking in the Franchise 500 is highly competitive, and achieving that distinction year after year is quite an accomplishment. We're thrilled to recognize so many brands who have thrived over the years!"
To view Dream Vacations in the Franchise 500 Hall of Fame list, pick up the March/April issue of Entrepreneur magazine, on newsstands March 7th or check it out online. To learn more about joining Dream Vacations, please visit http://www.DreamVacationsFranchise.com or call 888-249-8235.
About Dream Vacations
Travel agents with the top-ranked home-based travel agency franchise Dream Vacations have the resources to plan and create seamless vacation experiences for their customers while offering the best value. A member of the International Franchise Association, Dream Vacations is part of World Travel Holdings and has received franchise partner of the year, a top-ranking status, by all the major cruise lines as well as national recognition for its support of military veterans. For more information about Dream Vacations, visit http://www.DreamVacationsFranchise.com. Like Dream Vacations on Facebook at http://www.facebook.com/DreamVacationsFranchise, follow on Twitter at @Dream_Franchise and watch its videos at http://www.youtube.com/DreamVacationsBusiness.