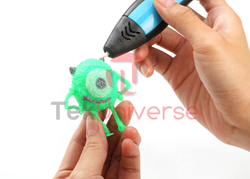 TekUniverse is shaping the world one step at a time with revolutionary products backed by awesome customer support.
Miami, FL (PRWEB) October 14, 2016
TekUniverse is pleased to announce the exciting pre-order for the DreamCreator 3D printing pen. –Be the cool kid on the block with this exclusionary 3D doodle pen. Pre-order sales are being offered exclusively from TekUniverse.
The DreamCreator V4 3D printing pen with an LCD screen is being released on August 17, 2016 and it's now available for pre-order on Amazon and TekUniverse's official website.
The DreamCreator 3D printing pen was released with a strong motor and the double click feature for a big move to improve the user experience and for an easy and comfortable use.
Convert your ideas to a 3D reality. This amazing new technology is great for many professions including artists, designers, architects and so many more!
Key Features

Voltage: 9V/2A
Power supplier: AC/DC adapter
Pen Material: plastic
Nozzle: 0.7mm diameter ceramic
Display:LCD screen (Displays the temperature and filament type)
Printing material: 1.5~1.75mm ABS/PLA filament
Print range: unlimited
Molding speed: adjustable
Temperature: 60-240℃ adjustable
Input voltage: 100-240V, 50-60Hz
For those that are anticipating the release of this hot new product, you can guarantee your pre-ordered DreamCreator 4th generation 3D printing pen.
About DreamCreator 3D Printing Pen
This new technology is growing and gaining more popularity fast. The 3d drawing pen uses melting plastic with high temperature instead of ink to draw in the air or on a surface. Create incredible shapes or objects with 3D dimensions without the need of using any computer software. Using this technology doesn't require any type of training. This unique and revolutionary product is easy enough for anyone to use.
About TekUniverse
TekUniverse is the leading provider of cutting edge electronics. TekUniverse has a commitment to each customer in providing the highest standard of customer service. Stay connected and find out more about the upcoming products from TekUniverse.