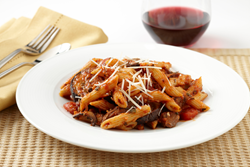 "October is hands-down the best month of the year because we get to celebrate our favorite food with lots of other pasta lovers," said Liz Housman, Dreamfields Director of Marketing. "#HealthyPastaMonth gives us an opportunity to engage with our fans on multiple levels, creating a sense of community
MINNEAPOLIS (PRWEB) October 02, 2018
October isn't just for pumpkin spice, but pasta as well. For the fifth year in a row, Dreamfields calls on fans of short, long, curly, fat or thin pasta to celebrate their passion during #HealthyPastaMonth2018!
For 31 days, fans will be treated to mouthwatering recipes, valuable coupons and daily chances to enter to win fabulous prizes including: a Samsung 55-Inch 4K Ultra HD Smart QLED TV, gourmet countertop June oven, the Ultimate Tailgate Party Pack including Coleman Portable Grill, $200 gift card to Omaha Steaks, BOMKI 18 PC Grilling and Cooking Set, and lots of Dreamfields pasta! Each week's recipes will follow a timely theme such as: Stovetop Saviors, Seasonal Colors, Fall Fuel, Classic Comforts, and Pumpkin Party. (OK, so there is some pumpkin spice in this promotion too.) Just follow Dreamfields on its Facebook, Twitter, Instagram, and Pinterest; or visit http://healthypastamonth.com/ to access to all the action connected with the month-long festivities.
"October is hands-down the best month of the year because we get to celebrate our favorite food with lots of other pasta lovers," said Liz Housman, Dreamfields Director of Marketing. "#HealthyPastaMonth gives us an opportunity to engage with our fans on multiple levels, creating a sense of community that spans from coast-to-coast and plate-to-plate."
Dreamfields makes any pasta dish better thanks to its delectable flavor and added nutritional benefits. Made from premium durum wheat semolina, it has the same taste and texture as traditional pasta. However, Dreamfields has the added bonus of having five grams of fiber per one cup cooked serving – that's twice as much fiber as traditional pasta – and seven grams of protein. Look for the black box in the pasta aisle of your local supermarket or grocery store.
Here's a sample of the kinds of delicious recipes to expect from #HealthyPastaMonth2018. For more recipes like this, visit http://www.DreamfieldsFoods.com.
PENNE WITH ROASTED EGGPLANT & SAVORY MUSHROOM RAGU
Preparation Time: 20 minutes
Cook Time: 35 minutes
Mushroom Hydration: 20 minutes
1 box Dreamfields Penne Rigate or Rotini
2 medium eggplants (about 3/4 pound each)
2 tablespoons olive oil
1 tablespoon each: chopped finely chopped red onion, fresh rosemary and minced garlic
1/2 cup chopped fresh parsley
1 cup each: sliced porcini (dry), portobello (fresh) and shiitake (fresh) mushrooms (see note below)
1/2 cup dry red wine
2 cups (16 ounces) prepared marinara sauce
1 teaspoon pepper
1/2 teaspoon salt
1/2 cup shredded Parmesan cheese
1. Preheat oven to 450°F.
2. Cut eggplant into 1/2-inch rounds. Spray cut sides with nonstick cooking spray. Place on nonstick baking sheet or foil-lined baking sheet. Bake 15 minutes or until tender. Remove from oven. Place eggplant on paper towels. When cooled, cut slices in half.
3. Heat oil in large nonstick skillet over medium-high heat until hot. Add onion, rosemary, garlic, parsley and mushrooms. Cook 5 minutes, stirring occasionally. Stir in wine; cook 2 to 3 minutes until wine evaporates. Stir in marinara sauce and eggplant. Sprinkle with pepper and salt. Bring to boil; reduce heat and simmer 15 to 20 minutes, stirring occasionally. Remove from heat.
4. Meanwhile, cook pasta according to package directions. Toss with eggplant sauce and 1/2 cup Parmesan cheese. Sprinkle with additional cheese, if desired.
Makes 6 servings.
Note: To hydrate porcini mushrooms, cover mushrooms with hot water. Allow to stand about 20 minutes to soften; drain.
Nutrition information (1/6 of recipe): 400 calories; 14 g protein; 65 g carbohydrates; 10 g total fat; 2 g saturated fat; 10 mg cholesterol; 640 mg sodium; 12 g total dietary fiber.