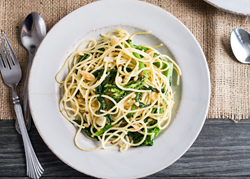 Through the #HealthyHacks campaign, Dreamfields will inspire and reward pasta lovers with our 'hacks', healthy recipes, and prizes
Minneapolis, MN (PRWEB) January 10, 2017
Many of us want to be stronger, healthier, or less stressed in 2017, but need a little encouragement and advice along the way. Dreamfields Pasta is lending a hand by launching #HealthyHacks 2017, a program filled with nutrition, fitness and motivation tips, prizes and delicious pasta recipes to help everyone meet their health goals.
Each day from January 9 to the 28th, Dreamfields Pasta will deliver tips, or "hacks," to help motivate and simplify life. In addition, there will be a chance for one or more lucky participants to win prizes. Additionally, each daily entry will automatically be entered for a chance to win the grand prize of $500.
To get serious about your health and have a little fun, visit http://healthyhacks.dreamfieldsfoods.com or Dreamfields' Facebook, Twitter, Instagram, and Pinterest accounts for smart "hacks" to encourage healthy living goals. 
Made with premium durum wheat semolina, Dreamfields pasta is a great addition to a healthy diet. In addition to its delicious taste, Dreamfields also offers a nutritional boost by providing 5 grams of fiber and 7 grams of protein per one cup cooked serving. Added inulin, a prebiotic fiber extracted from chicory root, helps promote healthy digestion.     
"We know Dreamfields is already a go-to for our fans who enjoy pasta as part of their healthy lifestyle. Through this campaign, we will continue to inspire and reward pasta lovers with our 'hacks', healthy recipes, and prizes to help them take small steps towards creating significant life-long habits," said Liz Housman, Director of Marketing at Dreamfields Pasta. "There's no 'one size fits all' for health, so our 'hacks' offer something for everyone."  
To start off the year on the right foot, try Spaghetti Aglio e Olio con Rapini. This recipe blends spaghetti with broccoli rabe and garlic for a quick dish that's easy to make and bursting with freshness.  For more recipes and information visit: http://www.DreamfieldsFoods.com.  
SPAGHETTI AGLIO E OLIO CON RAPINI
By: Midlife Coissant
Preparation time:15 minutes
Cook time: 11 minutes
Total time: 26 minutes
1 box Dreamfields Spaghetti 
1/2 bunch (9 ounces) broccoli rabe, washed and ends trimmed 
4 tablespoons high-quality olive oil, divided 
6 medium (or 8 small) cloves garlic, thinly sliced 
1/4 teaspoon crushed red pepper flakes 
Pine nuts (optional) 
Grated Parmesan cheese (optional) 
 
1. Prepare pasta according to package directions adding broccoli rabe during last 2 minutes of cooking. Reserve 1 cup cooking liquid before draining. 
 
2. Heat 3 tablespoons of the oil in large skillet or Dutch oven over medium-low heat. Add garlic and red pepper flakes. Cook 2 minutes, stirring occasionally. Lower heat if garlic browns too quickly. Add pasta water and remaining 1 tablespoon of olive oil; whisk vigorously to emulsify. 
3. Remove skillet from heat. Add pasta and broccoli rabe. Toss vigorously to continue emulsification and coat pasta completely. 
 
4. Top with pine nuts and cheese, if desired. 
Makes 6 servings. 
Nutrition information (1/6 of recipe): Calories: 300 Fat: 10 grams Carbs: 47 grams Protein: 9 grams Saturated Fat: 1 gram Cholesterol: 0 milligrams Sodium: 26 milligrams Dietary Fiber: 7 grams