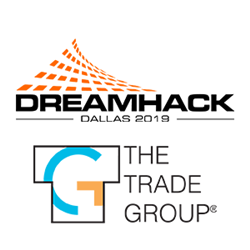 "Our goal is to give attendees, gamers, and exhibitors an enjoyable, seamless experience. When an event appears effortless, despite all the work that goes on from the pre-planning stages through tear down, we have succeeded in our goals," says Hajra.
DALLAS (PRWEB) May 28, 2019
When the DreamHack festival makes its first appearance in Dallas, TX at the end of May 2019, it will feature the full-scale DreamHack event, the CORSAIR DreamHack Masters experience, and The Trade Group serving as the General Service Contractor – again.
"The Trade Group has a proud history with the DreamHack festival," said Neeshu Hajra, VP of Business Development at The Trade Group. "In 2016, we were selected as the General Service Contractor for the inaugural DreamHack North American festival in Austin, TX, and our relationship has flourished over the years. We have been the General Service Contractor for six DreamHack events in multiple cities, and Dallas will be the seventh."
DreamHack is the world's largest digital festival. DreamHack, as an organization, was born in November 1994 when a couple of friends rented a school cafeteria in Malung, Sweden and spent the weekend "coding and hacking." Today, DreamHack holds the official "Guinness Book of Records" world record for the world's largest LAN party (with 22,810 computers connected to their network). Beginning in 2002, DreamHack became a multi-part event, and now holds several regular festivals across the world.
DreamHack Dallas is the event's first visit to the city. It is also the first time that two major DreamHack festivals will be simultaneously held in the same location. The classic DreamHack festival will, naturally, feature the BYOC (bring your own computer) LAN area, a massive event where attendees compete against one another for cash prizes in a variety of games, including Brawlhalla, Super Smash Bros. Ultimate, Street Fighter V, Tekken 7, Mortal Kombat 11, Soul Calibur 6, and more. While the LAN competition might be the big draw, the weekend also features several other highlights, such as cosplay competitions, music acts (including an EDM night and a metal night), an indie developer showcase, art galleries, film screenings, and much more.
Another draw to the Dallas event is the premiere of the DreamHack Mobile Series, the first time any mobile games (in this case games Brawl Stars and Clash Royale) will be featured in competition at DreamHack.
"At DreamHack we've always been optimistic towards mobile esports, but we have also been cautious to get involved," Michael Van Driel, Chief Product Officer at DreamHack AB, said in a release. "We now believe the time is right to really jump in head first, and we believe that the DreamHack Mobile Series will bring the right mix of a professional esports experience alongside open competition that fits the ideal structure for mobile esports."
The second festival at DreamHack Dallas is the CORSAIR DreamHack Masters. This esports arena championship pits the world's best Counter-Strike: Global Offensive teams in an intense competition for a $250,000 prize pool.
"Coordinating all the moving parts of an event like DreamHack is a massive undertaking, but we like to say that we control the chaos," said Hajra. "Our goal is to give attendees, gamers, and exhibitors an enjoyable, seamless experience. When an event appears effortless, despite all the work that goes on from the pre-planning stages through tear down, we have succeeded in our goals."
A General Services Contractor provides many services and solutions throughout an event. It all begins long before the doors open as our team assists the event coordinator, in this case DreamHack, with every aspect of the event planning process. This can include budgeting, time tables, exhibitor communications, event production, logistics, labor, structural design and fabrication, vendor arrangements, and more.
The next step is to find and secure a venue. The Trade Group has experience coordinating with event venues in nearly every major city in the U.S. (and many international ones, as well). Due to all of the work in the planning process, their team becomes intimately familiar with the show's needs and can quickly identify when a venue matches the event's needs. This includes capacity, services, amenities, and budget, but also goes a step further to fold in the location, visual appeal, and surrounding features (including lodging and cultural scene) of a venue.
Once a location is selected, it's time to dive into exhibitor services. This is a wide range of options, which can include:

Managing exhibitor orders through our online portal.
Serving as the point of contact for exhibitors before, during, and after the event.
Creating and distributing exhibitor kits.
Coordinating with outside vendors for all essential services (such as A/V equipment, lighting, staging, wired and Wi-Fi services, etc.) on behalf of exhibitors.
Ensuring that the venue is aware of all exhibitor needs and orders.
Managing the delivery of all exhibit materials to ensure exhibitors receive each item they order.
Overseeing and managing the coordination of all shipments and exhibitor move in and move out.
Working with labor is another important aspect of the job. Since labor regulations for exhibitions and trade shows vary from state to state and venue to venue, even slight oversights can be costly mistakes. The Trade Group has experience working with labor unions and organizations across the U.S. and can help navigate local regulations and manage labor crews to keep work on time and within the budget.
Presentation is essential for an esports tournament. But getting a stage's façade right is only part of the job. In addition to design and engineering all stages, they also need to be installed, lit, and checked that the A/V and sound is perfect. This is true for all presentation aspects of the event: panels, shoutcasting, tournaments, etc.
In addition, as a full-service production house, The Trade Group can handle all signage for the event. Since they produce all graphics in house, they avoid the delays and potential missed deadlines inherent when sending jobs out to third-party vendors.
The Trade Group also ensures that the show floor is ready for move-in when the time comes. Event venues frequently schedule shows back to back with very little time for move in. As a general services contractor, The Trade Group clearly delineates the floor plan by identifying every individual area with tape and/or chalk and installing any necessary pipe and drapes to divide the spaces. This way, when move in occurs, there's no question of what goes where. They then work with labor to fulfill exhibitor requests for electrical, rigging, plumbing, and all other installation needs.
The team also makes sure there are enough people on the show floor for the event to run smoothly at all stages, not just when the audience is on site. Additionally, one member of our crew is assigned as a primary point of contact for the entire event, so there is never a moment of wondering who to call should an emergency arise.
Finally, once the crowds have gone and the doors close, The Trade Group oversees the exhibitor move out. This means making sure that everything is dismantled and off the show floor on time because any tardy exhibits or vendors will lead to a hefty charge from the venue. They coordinate with labor and outside vendors to make sure all electrical, signage, rigging, drapes, and everything else is gone. They then synchronize the janitorial services to ensure that the floor is completely empty and the venue clean and ready for the next show.
DreamHack Dallas runs from May 31 – June 2. The Trade Group is looking forward to another year as the General Services Contractor for DreamHack. If you are interested in attending, please click here for tickets.
To learn more about The Trade Group's offerings as a General Services Contractor and for all other exhibition needs, give them a call at 800-343-2005.
ABOUT THE TRADE GROUP
The Trade Group is an award winning, full-service event marketing and creative design firm, specializing in trade shows, esports events and activations, corporate events, brand activations, retail merchandising, commercial graphics and experiential solutions. Since 1986, the company's team of live event, design and engineering experts has helped thousands of clients amplify their brands and successfully navigate a wide range of events and experiences. Clients rely on The Trade Group for: event ideation, creation and production; esports expertise; exhibit design and fabrication; graphic design and production; strategic marketing solutions; technology integration and more.