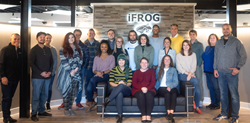 "iFrog was talked about as a dream, a goal of Brent Durham and Dave Wilson when I first started with the PAG team." - Shelby Loudon, Creative Director
EASTON, Md. (PRWEB) January 24, 2020
From the beginning, it was a match made in Ford heaven.
At the end of 2019, following a strong December run, Preston Ford — a Ford dealership nestled just outside a town of just over 700 on Maryland's Eastern Shore — experienced a watershed moment when it finished No. 33 in the United States based on volume sales. Throughout the annual sales drives for Preston Ford, which officially reached Mission: Possible 7 upon completion of the 2019 slate, iFrog Digital Marketing has been a driving force behind the scenes. iFrog Digital Marketing, which offers digital marketing solutions primarily for car dealerships and a host of other industries throughout the U.S., has undergone considerable growth alongside Preston Ford.
What started out as an arm of the Preston Automotive Group family of dealerships has now blossomed into a full-fledged agency specializing in digital marketing solutions geared toward impacting a company's digital footprint and web presence. The inaugural iFrog team, though not under the current moniker, was a part of Preston Ford's top 100 sales drive that began in 2013, ending with a 90th-place finish. The annual sales drives then netted rankings of 72, 79, 63, 52, 44, and then 33 in the latest results. The current meteoric rise was ignited in 2015, and Preston Ford moved up no less than nine spots each year since, culminating in the banner 2019 campaign.
"You could feel the energy when you walked into the showroom in December. Everyone was in the zone and Top 40-focused," said iFrog Senior Account Manager Emily Fryer, who started with the company in April 2019 before taking over the lead on Preston Automotive Group accounts the following month. "We felt like a part of the Preston team and we were rooting for the team every step of the way,
"This year, we took it to a level where each morning there was a new message in the final days of the sale," Fryer added. "We drove urgency in a number of digital channels to the point where it felt personal, and that we needed to do anything and everything to help drive Preston into the Top 40 spot. We incorporated more vehicle-specific targeting and customer targeting strategies that promote website growth, which in the end grew about 2,000 to 4,000 sessions per month from October through December."
It started with a flicker in 2007, as Dave Wilson, the Founder and Chairman of Preston Automotive Group, shifted advertising budgets and marketing strategies for his dealerships to be better aligned with the modern car-shopping climate. By 2013, the initiatives were up and running but employees were still scattered between the Preston Autoplex and the company's main offices in downtown Preston. The group moved into a standalone office building in downtown Preston in April 2015, before the company packed up and moved into a renovated edifice in Easton, Maryland in July 2016. The office setting in this historic town of Mid-Shore Maryland is now the home of iFrog.
"Being a team of 10 in the early days allowed us to be very close, literally like family," said iFrog Chief Operating Officer Brent Durham, who has been with Preston Automotive Group since 2009 and is a co-founder of iFrog. "Being so, everyone did a little bit of everything and we all grew stronger. Learning happened at a much quicker rate. To catch up to our competition we had to be dead set to get better and be able to learn more quickly than the competition in order to catch up. We knew how to do what we do, but we needed to get it done quicker, smarter, and better than everyone else."
iFrog Creative Director Shelby Loudon, who began as a Graphic Designer with Preston Automotive Group in September 2013, added "iFrog was talked about as a dream, a goal of Brent Durham and Dave Wilson when I first started with the PAG team. What was unique about my experience starting off as the only in-house Graphic Designer for PAG was that I got to be involved in lots of ways, I got to do things that now we have whole departments for."
Born in a Dealership®
Based out of Easton, Maryland, iFrog Digital Marketing offers modern digital marketing solutions for car dealerships and a host of other industries throughout the U.S. iFrog specializes in Email Marketing, Search Engine Optimization, Search Engine Marketing and Paid Search, Graphic Design, Mobile Advertising, Social Media Marketing, Online Reputation Management, and Display Advertising and Retargeting. Today, iFrog Digital Marketing serves over 80 clients, including 32 different Ford dealerships. For more information on iFrog Digital Marketing and its offerings, visit at http://www.ifrog.com or call 410-673-8278.