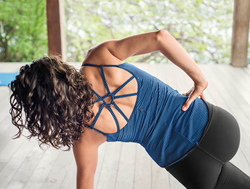 We strive to blend style, function and fit together – and do it all in a sustainable way—to create pieces that work for pursuing and living your passions
Carlsbad, CA (PRWEB) March 04, 2015
Drawing its name from the dream-catcher detail of its back, prAna's new Dreaming top is inspired by feminine movement, strength and elegance, and designed to bring beauty and performance to your yoga practice.
"This top reflects what's special about prAna," said Ellen Krimmel, prAna's VP of design and merchandising, "We strive to blend style, function and fit together – and do it all in a sustainable way—to create pieces that work for pursuing and living your passions."
The Dreaming top has a fresh look that combines sporty stripes with delicate detailing. Incongruous mixes and the juxtaposition of contrasting elements like these are embedded across prAna's entire collection this season. Look for ornamental circles, bold yet soothing colors, and mixed textures.
prAna makes each piece using the best performing materials possible. For the Dreaming top, its designers chose a jersey knit blend of recycled polyester, with a hint of spandex. The top is cut to enhance a woman's body with a fitted silhouette to flatter the torso, a longer back for additional coverage, and a shirttail hem to soften the drape on the hips. Though designed for yoga, many reviewers say they also love it with jeans, or as a comfortable layer.
"Recycled polyester can be spun into a soft yet durable fiber and because it doesn't like water, this material keeps you drier than cotton when you sweat" explains Krimmel. "Our choice to use recycled polyester instead of virgin polyester doesn't reduce the performance of the fabric, instead what it does is help reduce use of the earth's finite resources."
"The Dreaming top is popular piece in what is a very exciting collection," said Krimmel. "The artful webbing highlights the upper back which we think is an asset most woman forget to showcase—you'll be happy to get the front spot in yoga class."
To learn more about the Dreaming top, or to order online, please visit prAna.com.
About prAna:
prAna is a lifestyle brand that draws its name from the ancient Sanskrit word for breath, life and vitality of the spirit. The prAna team creates purposeful and stylish apparel for people to pursue their passions on the water, mat, rock, trail, and street. From its beginning in 1993, prAna has been committed to weaving sustainable practices into its operations and supply chain, working to reduce its impact on soils, water supplies and other natural resources while promoting conservation. PrAna is also conscious of its impact on communities and has worked to include a growing number of fair trade styles every year. It is the first major apparel company in North America to offer Fair Trade USA certified products and accessories. PrAna is sold in five flagship stores, online at prana.com, and in 1,400 specialty retailers across the US, Canada, Europe and Asia. PrAna is one of the portfolio brands of Columbia Sportswear Company (COLM).
For a list of prAna retailers, please visit prana.com/dealer-locator.html
Find prAna on Facebook, Twitter and Instagram