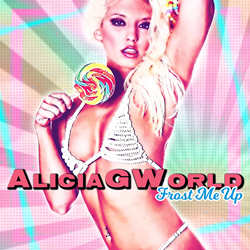 "Frost Me Up" is about how there is nothing wrong with getting all dressed and glammed up, being fun, flirty and confident with who you are.
HOLLYWOOD, Calif. (PRWEB) January 16, 2021
Alicia G of Drew Right Music releases new single "Frost Me Up". When asked about what the song means to her Alicia G said this: "Frost Me Up" is about how there is nothing wrong with getting all dressed and glammed up, being fun, flirty and confident with who you are. What others have to say about you shouldn't matter; just be yourself and be strong and confident in everything you do and as the song says, "celebrate me like your birthday and I'll turn this place into my runway". Listen to "Frost Me Up" now on all major streaming platforms by clicking the link below!
Alicia G, whose legal name is Alicia Kristina Guastaferro, cultivated her career in Buffalo, New York, beginning as a classically trained vocalist at age eight. Refined through years of pageantry, and interlaced with a glittering sense of style, Alicia G embodies the world of pop-culture to the brink. In fact, by the time Alicia G was fifteen years old, she had already traveled across the United States competing in beauty contests for over a decade.
The world got their first look at the soon-to-be reality star when she was approached by the hit series Wife Swap, on ABC. The show made headlines when producers twisted Alicia G story—portraying an unorthodox relationship with her family, irrevocably damaging and defaming her character— The Buffalo native soon found herself in a world of chaos. In the years to come after filming, the damage became more apparent, as Alicia G suffered from years of mental and physical abuse from those around her. In 2013, Alicia G was interviewed on Dr. Phil regarding these struggles.
Alicia G began working tirelessly on her musical career—finding herself through the culmination of a zesty charisma and a classy-but-sassy attitude in the world of rap, hip-hop, and pop music. In addition, she began cultivating her own sound through high-energy performances as a songstress and DJ—sharing the stage with the Goo Goo Dolls and playing radio-sponsored events. Alicia G soon garnered the attention of Multi-Platinum Record Producer, Andrew Lane who has worked with various major label acts such as: The Backstreet Boys, Miley Cyrus, and Becky G. He quickly took note of her talent and the two began cultivating a pop-polished sound with an unapologetic, in-your-face, lyrical structure. The songs were distributed by Drew Right Music, and in 2016 the collaboration's first release, "Pretty Girl", landed at the top of the Independent Music Charts for three weeks, making it a success and a strong foundation for the reality star.
In March of 2019, Alicia G was recruited to join the ranks of the live streaming app called, BIGO. In less than one year, Alicia G's audience skyrocketed to over 2.1 million fans that tune in nightly to see the hip-hop princess perform, DJ, and entertain. Her loyal fan base has been termed the AG ARMY.
Alicia G also recently released her hip-hop jingle, "It's Little But It Jiggles" also produced by Andrew Lane. The song was distributed by Sony Music Entertainment, making it Alicia G's debut record distributed by a major record label. The music video for "It's Little But It Jiggles" also received more than 1.4 million views in five days, putting it on the heat list for new music.
If you'd like to keep up to date on everything Alicia G and or follow her on social media click the link here.