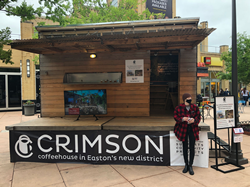 "We invite Columbus coffee lovers to join us in creating a more sustainable future for coffee and the workers who produce it." - Greg Ubert
COLUMBUS, Ohio (PRWEB) June 10, 2021
With your next cup of Crimson coffee, you can help give Honduran coffee workers new homes, clean drinking water, better education and stronger communities.
Just visit Crimson coffeehouse at 4066 Worth Avenue in Easton Town Center's newest district. Through June 30, the coffeehouse will donate $1 of your purchase toward community improvements in Siquatepeque, Honduras.
"Every delicious drop of coffee starts with coffee workers, who hand-pick ripe coffee cherries from coffee trees for $1 per hour or less," said Brandon Bir, director of sustainability for Columbus coffee roaster Crimson Cup Coffee & Tea.
"We created Crimson to showcase the hard work of coffee farmers and their workers," he added. "By helping small-plot farmers and their communities thrive, we can help ensure a sustainable coffee harvest for years to come."
To show how donations support coffee workers, Crimson has set up a Hope House exhibit outside the coffeehouse. There, you can view a time-lapsed video of a homebuilding process, examine a water filtration bucket and learn about the company's partnership with ServeHope International.
"100 percent of the funds we raise go directly to helping coffee workers, their families and their communities," Bir said.
Through its Friend2Farmer initiatives, Crimson Cup has been working with small-plot coffee farmers in Siguatepeque, Honduras since 2011.
"During frequent visits to work with farmers, we've seen that lack of safe housing, access to clean drinking water and education are serious issues – especially for families with children," said Coffee Buyer Dave Eldridge. "Working with community leaders and ServeHope, we chose these three priorities for investment."
He noted that the it costs only about $25 to purchase and transport a filter bucket to Honduras, where ServeHope distributes the buckets and trains workers to use them.
ServeHope and Crimson Cup have built tiny homes for several workers using about $3,000 in building supplies and donated labor. In 2018, Crimson Cup led a group of college students and independent coffee house owners to build a home for the Lorenzo family.
"It's all part of our focus on good," said Crimson Cup Founder and President Greg Ubert. "We invite Columbus coffee lovers to join us in creating a more sustainable future for coffee and the workers who produce it."
About Crimson Cup Coffee & Tea
Columbus, Ohio coffee roaster Crimson Cup Coffee & Tea is celebrating 30 years of Coffee + Community. Since May 1991, Crimson Cup has roasted sustainably sourced craft coffee for consumers and wholesale coffee customers. It is a 2020 Good Food Award winner, 2019 Golden Bear Champion for Small Franchise/Chain Roaster and Roast magazine's 2016 Macro Roaster of the Year.
Through its 7 Steps to Success coffee franchise alternative, the company teaches entrepreneurs to run independent coffee houses in their local communities. By developing a coffee shop business plan, entrepreneurs gain insight into how much it costs to open a coffee shop.
Crimson Cup also supports life-enriching projects through its Friend2Farmer™ initiatives, promoting the education, health, sustainability and economic growth of small-plot coffee farmers and their communities.
Crimson Cup coffee is available through over 350 independent coffee houses, grocers, college and universities, restaurants and food service operations across 30 states, Guam and Bangladesh. The company also operates several Crimson Cup Coffee Houses and a new Crimson retail flagship store. To learn more, visit crimsoncup.com, or follow the company on Facebook and Instagram.