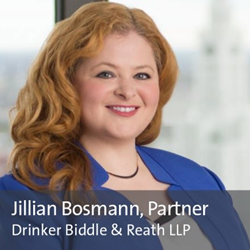 PHILADELPHIA (PRWEB) April 09, 2019
Drinker Biddle & Reath, LLP, a national full-service law firm, will be a gold sponsor for SunStar Strategic's 2019 Conference, "Thriving in an Ever-Changing Industry." The conference is ideal for small to medium-sized mutual fund firms who want new, actionable ideas to help them grow assets.
The conference will be held Monday and Tuesday, April 29 and 30, 2019 at the Dupont Circle Hotel in Washington D.C.
Jillian Bosmann, a partner at Drinker Biddle, will moderate a panel of fund managers who will share case studies about their growth trajectories. Carl Hendley, VP Strategic Development, Motley Fool Asset Management (MFAM), Tom Plumb, Lead Manager, CEO, Chairman, Plumb Funds, and Ben Jones, Head of Intermediary Distribution, BMO Investment Distributors, BMO Global Asset Management, are the panelists.
Bosmann represents investment companies and business development companies and their boards of directors. She also advises investment advisers on regulatory, compliance and corporate matters. A partner in the nationally-ranked Investment Management Practice Group, she advises boards of directors of registered investment companies and business development companies on fund governance and fiduciary oversight matters. She has substantial experience serving as independent counsel to independent directors, advising them on a broad range of issues and matters.
"One of the best things about our conferences has always been the opportunity to talk with peers and with industry specialists like Jillian Bosman from Drinker," said Kathryn Morrison, CEO and president of SunStar Strategic. "This year, three fund managers will talk about their success stories in raising assets quickly. They range in size and staff composition. Afterward, conference participants will also have the chance to talk with the panelists and create ongoing relationships."
To address the industry's issues, the conference will showcase two keynote speakers addressing distribution essentials and strategies to compete with the mega funds, as well as panels of:

Fund managers with assets ranging from $120 million to $250 billion talking about specific techniques they are using to sell their funds, covering an array of products, sales efforts and marketing structures.
Financial journalists sharing what they're looking for and what topics they find to be of interest.
M&A experts talking about trends in the industry and valuations for buyers and sellers.
Industry experts offering insights on how to get on platforms and maximize opportunities.
Data and digital providers demonstrating how to maximize their services for advisor outreach through smart data.
For more information, including speakers, agenda and registration, visit https://www.sunstarstrategic.com/conference or call 703.299.8390.
About SunStar Strategic
SunStar Strategic offers public relations (PR) and marketing programs to help attract, maintain and grow clients. Core services include comprehensive PR, creative strategy and execution. SunStar is headquartered in Washington D.C. with additional offices in Chicago, New York City and Austin.