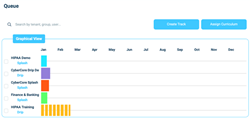 Heather Stratford, CEO of Drip7, "The 2.2 version provides an easy intuitive management portal for curriculum review, a curriculum development graphical interface, an API for reporting integration, curriculum scheduling enhancements and leaderboard resetting. These improvements simplify training."
SPOKANE, Wash. (PRWEB) February 23, 2023
Manager stress is high and growing, leading to burnout, and worse physical well-being and work-life balance.[1] The easy to administer Drip7 is a needed tool among cybersecurity and IT teams across industries. It requires no technical skills to administer and has been described as being "like hiring an extra security team member. Someone to manage and run the security program in the background while team members support the other layers of the security," according to one customer.
Heather Stratford, CEO of Drip7 states, "The 2.2 version of Drip7 provides managers with an easy intuitive management portal for curriculum review of training, a graphical interface for curriculum development, an application program interface for reporting integration, enhancements for curriculum scheduling and leaderboard resetting." She continued, "these improvements simplify the job of training employees and provides valuable feedback on the status and progress of employees collectively and individually." Drip7 is convenient with short learning sessions that fit better into the work environment whether employees are in the office, at home, or hybrid.
Drip7 sets itself apart, with reminders and engaging training that can be "set it and forget it" easy for admins, but also highly customizable to each organization and industry. This latest version is designed to build on that ease of use and empower both end-users and administrators even more.
The new features in version 2.2 include:

New answer options and features
New self-directed learning tracks
New question types
New user activity badges
Enhancements to badge achievements
New graphical display of individual user badge detail
New graphical interface for admin curriculum review
New preview mode for question queues
New graphical interface for curriculum development
New admin control over individual point awards
New current trending phishing templates
New training path for failed phishing tests
New phishing scheduling options
New Drip7 API for reporting integration
Enhancements to admin curriculum scheduling
Enhancements to leaderboard resetting
These updated features will help customers improve engagement, allow expanded training, and require only a few clicks to administer. This update will not only improve the overall functionality of Drip7, making it easier to use and more effective, but improve the quality of your organization's training.
Drip7 version 2.2 allows an organization to move beyond the check box mentality of yearly training and embrace a more frequent, flexible, and customizable way to train, engage, and retain your employees. Employees that feel a strong connection to their workplace community are happier and more productive. A well-constructed rewards program can increase job performance 25 to 44 percent as well as result in higher employee retention rates.[2]
How do administrators using Drip7 feel? "I was excited to see us try a new approach regarding IT security education and thought the gamification concept was a great idea. I love that we're investing in education and incentivizing learning (through prizes) as a way to ensure our employees reduce risk to the organization. I'm competitive and wanted to see if I could win," said a government agency security administrator.
And feedback from users has been glowing. "I work for a university that just required all employees to go through cybersecurity training provided by Drip7. I loved it! It was simple but powerful with content chunking, engaging videos versus boring PowerPoints with stock photos, and great questions. I wish all trainings looked like that!" declared a higher education faculty staff member.
To learn more about Drip7 version 2.2 and how it can benefit your business, visit our website or contact us directly.
About Drip7
Drip7 is a leading innovator in the field of cybersecurity awareness training and beyond with an easy-to-use, mobile-based platform utilizing microlearning and gamification to increase employee engagement and create behavior change. Drip7 combines the right science and content to produce a superior training platform, from one question or "drip" a day to allowing employees to train when and where they want on their phone or computer, Drip7 engages users with an interactive dashboard, rewards, badges, and more. Included training is focused on cybersecurity and compliance; however, the platform can be customized by a company for any training need. For more information, please visit https://drip7.com
[1] https://www.gallup.com/workplace/357404/manager-burnout-getting-worse.aspx
[2] https://unboxedtechnology.com/blog/employee-rewards-programs-are-for-training/#:~:text=According%20to%20The%20Incentive%20Research,result%20in%20lower%20turnover%20rates