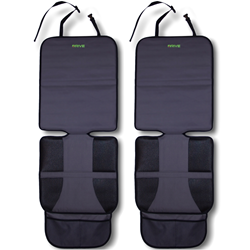 Protecting both cloth and leather upholstery from indentations, scratches, dirt
NEW YORK, NY (PRWEB) November 03, 2016
Drive Auto Products, a leading manufacturer of auto accessories, announced today the relaunch of its bestselling Drive car seat protector in a two-pack value bundle. The new offering introduces a cost-effective solution for protecting both cloth and leather upholstery from indentations, scratches, dirt and other damage.
"We couldn't be prouder of the feedback we've been getting on the Drive Child Car Seat Protector line," said Ross Baker, founder of Drive Auto Products. "It has really taken off with new parents for protecting new vehicles, and also dog owners have been a big hit with us."
Drive Auto Products' bestselling drive car seat protector first made its marketplace debut in 2016, and has been especially popular among car owners with infants in car seats as well as vehicle owners with pets who want to prolong the life of their backseat, truck bench or third row. The product measures 18-inches wide and features deluxe thick padding for maximum resistance, along with a non-slip backing and adjustable headrest attachment strap. A convenient positioning bulb allows car owners to simply and quickly secure the car seat protector into place, ensuring safety for moms, infants and the entire family.
Drive Auto Products customers have consistently given the car seat protectors five-star reviews and the protectors currently rank in the top one hundred automotive accessories on Amazon.com, the world's largest online marketplace.
"The pressure from my daughter's car seat was causing the leather in my 2016 Highlander to stretch and look worn," said a recent Drive Auto Products' customer who purchased the drive car seat protector on Amazon.com. "I took everything out, cleaned the seat and put this down. It does a good job protecting the seat leather from that pressure of having a secure car seat. I liked it enough to buy a second one for my son who is due in a few weeks. I think it's well worth the investment."
Drive Auto Products' drive car seat protector two-pack value bundle is available in dark galaxy grey to compliment a wide variety of interior color palettes and currently retails for $54.00. More information about the product, including details about the deluxe 2017 model, is available at http://driveautoproducts.com/collections/car-seat-protector and on Amazon.com.