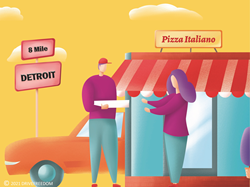 "Our delivery driver service cannot be beaten on Price, Choice or Security. We charge no commission fees with our direct p2p service. Customers have ultimate choice and with that added security," says Anthony Todd, DriveFreedom Founder.
ENGLISH HARBOUR, St. Paul (PRWEB) April 01, 2021
With restrictions on indoor dining, restaurant-chains have relied on deliveries to survive. Many businesses without delivery set up have had to rely on apps like DoorDash, which charge very high commission fees, thus minimizing the profit margins. It has been estimated that delivery costs drop by 50% using internal food delivery teams. As a result, many restaurants are now building their own delivery driver teams.
Early delivery recruits were often staff members. As indoor dining restrictions start to ease up, these staff members are needed inside again, while delivery demand remains strong. Rather than relying on commission-charging apps, restaurants can now continue to grow delivery teams using the DriveFreedom service.
P2P Driver Services
DriveFreedom Classifieds helps member drivers get regular gigs and build long-term relationships with businesses through classified-style listings along with proactive marketing and matching service. Anthony Todd, the founder of DriveFreedom says "Our delivery driver service cannot be beaten on price, choice or security. We do not charge commission fees with our direct P2P services. Customers have ultimate choice and with that, added security."
Any business can complete the RAD listing that seeks delivery drivers. The request is based on location, vehicle type and service. For example, a pizza restaurant may request delivery drivers to work busy weekends and/or evening shifts. The purpose of the RAD listing is two-fold. The actual listing is searchable by users. As a user makes a request, the DriveFreedom staff are alerted and set out to find drivers that match.
The RAD listing does not include the identity of the customer, and DriveFreedom vets the applicants. All drivers on the platform have to become members, pass the entry requirements and submit a Driver Services Listing before having access to RAD listings.
No Commission or Delivery Fees
DriveFreedom Classifieds is not a commission-charging, middleman app. Rather, It is an advanced directory listing app. The 'Demand Side' listing is 'Request-a-Driver', while the 'Supply Side' is Driver Services Listings by vehicles. DriveFreedom acts as the matchmaker.
Anthony further establishes why DriveFreedom is a better choice by saying, "By doing away with commission fees, income can be shared by restaurants and drivers, while nothing is wasted on the middleman app. Drivers and restaurants can save hundreds of dollars a month. Commission fee middlemen apps often take 20% to 30% of the final bill."
Available in the USA
Vehicle-owning, independent delivery drivers across the USA are keen on finding gigs that pay above US$15 an hour with tips. DriveFreedom guarantees the provision of leads in 5 days for any restaurant that completes the 'Request-A-Driver' form on http://www.drivefreedom.io. According to the founder, technology developments are on-going to improve P2P driver services. Further details including contact form, WhatsApp number and Facebook Messenger links can be found in this POST.
Contact Information:
Anthony Todd
DriveFreedom Classifieds
ant@drivefreedom.info
http://www.drivefreedom.io
Antigua and Barbuda
Phone:+1-268-764-7464