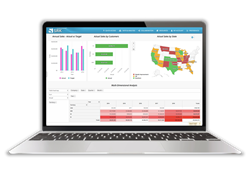 PASADENA, Calif. (PRWEB) May 16, 2019
We understand that it is sometimes a challenge to drive adoption of new solutions. Everyone has a daily routine that they are so used to that even introducing a solution that will save them time, effort, and headache can seem more daunting than just continuing with a manual, time-consuming process they are familiar with. To help our customers drive success with SRK, and in response to the growing interest in end user features from organizations rolling out SRK, DrivenBI has developed a View User Training Course to help accelerate the adoption of SRK in companies.
This new course is designed to make sure that users know how to quickly navigate through their data and analysis in SRK, learn about the different analysis features at their disposal, and how to easily collaborate with their team members on existing and future analysis. They will also learn the most popular tips and tricks that are being utilized today for more insights and better performance.
We are offering the new training course for individuals and group sessions of up to 4 participants. Contact us for pricing and scheduling details.
NEW View User Training
Description:
SRK View User Training is delivered by live instructor via GoToMeeting with training materials for participants to follow and reference. This course offers a comprehensive walkthrough of the key steps of navigating SRK and getting the most out of your analysis:

Ad-hoc Analysis
Report creation and scheduling
Collaboration
Walkthrough of navigation of customer's own current analysis
Duration: 2 - 3 Hours
Includes: SRK Instruction, Training Materials/Accounts, and Resources
About DrivenBI
DrivenBI delivers a cloud-native self-service BI solution, SRK, that dramatically improves the productivity of business professionals who have switched from spreadsheets/ERP, embedded BI, and other traditional BI tools. SRK is a single centralized platform that gives users the ability to bring in their own data, build analysis according to their own specific dynamic requirements, and collaborate with colleagues with actionable sharing. http://www.drivenbi.com
CONTACT: Kathleen Douglas, DrivenBI | kdouglas@drivenbi.com | (650) 867-1446