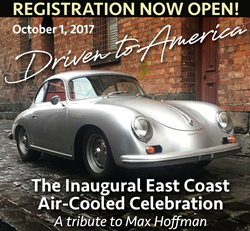 The air-cooled car culture is vibrant in this region, coupled with the car racing history of the Island, this is the perfect venue to spotlight the love affair America has with the Porsche
Muttontown, Long Island, New York (PRWEB) August 01, 2017
For the first time on Long Island, a celebration of the air-cooled Porsche automobile, and a retrospect of the man responsible for importing these performance European vehicles to the U.S.; Maximilian Edwin Hoffman. The Inaugural East Coast Air-Cooled Porsche Celebration will take place on October 1, 2017 at the Hoffman Center, Muttontown, New York. Attendees from around the country will join their fellow air-cooled Porsche owners, racers, collectors as well as die-hard fans for this historic outdoor event. "The air-cooled car culture is vibrant in this region, coupled with the car racing history of the Island, this is the perfect venue to spotlight the love affair America has with the Porsche," states David Jacobson, Founding Executive Director, Driven to America and owner of Collector Car Showcase.
Air-cooled Porsche owners and collectors are invited to register to display their Porsches alongside other historic air-cooled models. There will be several lawn areas that will provide secure viewing by model type. The Great Lawn Display, and The Promenade Display; two special showcase locations, set up for the day, on the grounds of the Hoffman Center. "The Hoffman Center, a lasting tribute to Max Hoffman is a 155-acre nature preserve with a "Gold Coast" era mansion surrounded by open meadows, grasslands, water features, a bird preserve with rare plantings. This spectacular locale will usher everyone back to a time to when engines roared on Long Island and major auto racing was born," continues Jacobson. The excitement begins at 7 AM with coffee and breakfast, followed by a discussion of the displays, Porsche activities, and a gourmet lunch with specialty chef selections, a Biergarten, wine and spirits including specialty food and dessert trucks, a live DJ, and Bavarian Folk Dancing.
This one-day event captures the historic significance of the air-cooled Porsche and the Max Hoffman Center with special road and race cars on display, along with the people who drive and love them. In addition to the displays, revisit racing history with 1960s race car drivers in attendance and witness the most important Marque in auto racing history.
For vehicle display, tickets and all other information, please visit: http://www.driventoamerica.com All access admission for the day's events is $20. Driven to America supports the efforts of Layers of Love NY: Because Warmth Comes from the Heart, a not-for-profit organization benefiting children and families on Long Island with winter coats. The event is helping to draw attention to those in need on Long Island and to generate exposure for this charitable cause by asking attendees and exhibitors to donate a gently used or new coat on the day of the event. Drop off bins will be stationed at the entrance, other drop off locations and information is listed on the Layers of Love link: https://www.driventoamerica.com/layers-of-love
Driven to America was founded in 2015 by David Jacobson, the owner and curator of Collector Car Showcase (CCS), a Porsche and petroliana museum/event center located in the historic village of Oyster Bay, New York. Driven to America events celebrate the life and legacy of Max Hoffman, and his incredible contribution in creating and importing some of the most important cars in our history. The organization's goal is to continue Hoffman's dream of keeping alive the legacy of the air-cooled Porsche for generations to learn about and enjoy.