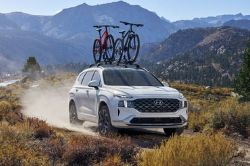 MUSKOGEE, Okla. (PRWEB) January 09, 2023
Buyers around the Muskogee area who are fond of Hyundai SUVs can now buy its latest Santa Fe model. The 2023 Hyundai Santa Fe is now available in the vehicle inventory of the James Hodge Hyundai dealership. With a rugged and stylish body design and numerous modern upgrades, the latest SUV from Hyundai is hugely popular among drivers who prefer powerful SUVs that can easily handle both on and off-road terrains.
Interested buyers can check out the 2023 Hyundai Santa Fe via the dealership's website and learn the SUV's technical specifications. They can also test drive the vehicle when they directly visit the dealership. This is a chance for them to explore the vehicle thoroughly. Test-driving an SUV helps buyers quickly grasp and analyze how the vehicle behaves and functions on the road. Available with a powerful 2.5-liter Inline-4 engine that offers massive engine power and good fuel mileage efficiency, the 2023 Hyundai Santa Fe is perfect for all types of terrains.
Buyers can log on to the jameshodgehyundai.com website to learn about the vehicle services, offers and deals available at the Hyundai dealership. For additional information on the well-built 2023 Hyundai Santa Fe SUV, they can visit the dealership sales team at 1330 North Main Street, Muskogee, OK 74401 or contact them by phone at 833-331-0067.