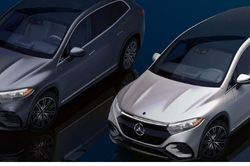 PEORIA, Ariz. (PRWEB) November 24, 2022
Car enthusiasts looking for a luxury sedan can now check out the 2023 Mercedes-Benz EQS 450+ sedan at the Mercedes Benz of Arrowhead dealership in Peoria, AZ.
Buyers interested in the most cutting-edge luxury sedan might consider the 2023 Mercedes-Benz EQS 450+ sedan. The vehicle includes the newest technology, including the enormous Hyperscreen, driver profiles based on fingerprint scans and a staggering six USB-C ports, which are characteristic of Mercedes-Benz vehicles.
The company attempts to create an electrified S-Class. The spacious interior, exquisite cabin materials, headrest cushions, massaging features and neck-and-shoulder heating pamper customers who purchase the model.
The inventory at Mercedes-Benz of Arrowhead is incredibly diverse and includes new and pre-owned automobiles from the following brands: Mercedes-Benz, BMW, Chevrolet, Ford, Jeep, Kia, Land Rover, Lexus, Mazda, Nissan, Porsche, Toyota, Volkswagen and Volvo. A group of qualified experts thoroughly inspect each of the vehicles in the inventory for quality and safety. They also provide competitive financing alternatives to help buyers make their purchases more affordable.
Drivers can apply for an auto loan from the dealership to purchase this vehicle. They must submit an online application and list their contact information and previous employment experience. The dealership's finance department will create a loan package that best meets the needs and financial circumstances of the applicants. Additionally, applicants can trade in or sell their current vehicle and purchase a new one.
Prospective buyers of the 2023 Mercedes-Benz EQS 450+ Sedan are encouraged to visit https://www.arrowheadmb.com/ at 9260 W Bell Road, Peoria, Arizona, 85382. Drivers can also reach out to the customer care team at the dealership for further inquiries by dialing 623-815-3900.