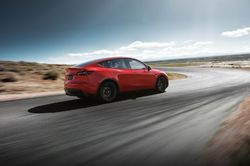 CATHEDRAL CITY, Calif. (PRWEB) November 11, 2022
Shoppers around Cathedral City in California can now shop for pre-owned Tesla models at the Blue Knob Auto Sales Dealership.
Tesla is doing reasonably well in California, which is the largest vehicle market in the US. The Tesla Model Y and Tesla Model 3 were the two best-selling cars in California for the first half of 2022, as was previously announced by the manufacturer. Interested buyers can visit the dealership and take the vehicle for a spin.
Blue Knob Auto Sales is a dealership that deals with pre-owned vehicles of all make and models. They have a diverse lineup of vehicles. Customers can test drive the automobile of their choice before purchasing. They carry everything from a Toyota Prius to a Ford F-350 Super Duty as well as luxury cars such as Mercedes-Benz, BMW, Audi and Lexus and economy cars from Hyundai, Nissan, Honda to Chevy.
Buyers can apply for an auto loan at the dealership after deciding on a vehicle for themselves. The finance team will collaborate with several banks and lending institutions to create a financing package tailored to the buyers' needs.
Please visit the blueknobauto.com website to learn about the various vehicle availability, offers and services available at the Blue Knob Auto Sales dealership. For detailed information on the recently added pre-owned Tesla, kindly visit the dealership at Blue Knob Auto Sales, 2860 Route 764 Duncansville, PA, 16635, or contact them by phone at 814-695-1387.