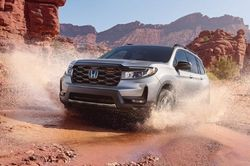 OKLAHOMA CITY (PRWEB) January 04, 2023
Powerful SUV fans who are planning to buy a new vehicle this year near Oklahoma City can now chase their dreams. Honda SUVs are famous for their massive capability, enhanced power and high-end performance. The latest version of the brand's Passport model, the 2023 Honda Passport, is now available in the inventory of the Battison Honda dealership.
Interested buyers should check out the brilliant performance and tech-savviness of the 2023 Honda Passport. They can explore this SUV via the dealership's website and learn more about its technical specifications. People closer to the dealership can visit in person to test drive this power-packed Honda SUV. Test driving helps drivers analyze how the vehicle performs in real-time. Buyers can get in touch with the dealership's sales team for further details regarding the 2023 Honda Passport and its test drive timings. This SUV carries a massive 3.5L V6 engine that delivers phenomenal power and performance.
Buyers can explore the battisonhonda.com website to learn about the various Honda deals, new vehicles and other offers available at the Battison Honda dealership. For more information on the mighty 2023 Honda Passport, they can visit the dealership at Battison Honda, 8700 NW Expressway, Oklahoma City, OK 73162 or contact them by phone at 405-495-5800.