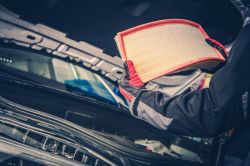 GLENDALE HEIGHTS, Ill. (PRWEB) May 25, 2023
Glendale Nissan, a popular Nissan dealership, is proud to announce the availability of engine air filter service to customers in Glendale Heights, Illinois. This service offering aims to optimize vehicle performance and improve fuel efficiency, ensuring a smooth and reliable driving experience for all customers.
The engine air filter plays a crucial role in maintaining the overall health and performance of a vehicle's engine. Over time, the air filter can become clogged with pollen, dirt, dust and other debris, hindering airflow and affecting engine efficiency. Regular maintenance and timely engine air filter replacement are critical to ensure proper engine function and fuel economy.
With the availability of engine air filter services at Glendale Nissan, customers can now benefit from professional inspection, cleaning, and replacement of their vehicle's air filter. The highly trained technicians at the dealership possess the expertise and knowledge to identify potential issues and provide appropriate solutions, ensuring that customers' vehicles function at their peak performance levels.
By using this engine air filter service, customers can experience a range of advantages. A clean and properly functioning air filter enables efficient combustion, optimizing fuel efficiency and reducing emissions. It also helps protect the engine from harmful pollutants, preventing premature wear and extending the lifespan of integral engine components.
Glendale Nissan encourages drivers near Glendale Heights and surrounding areas to visit their service center and use the engine air filter service. The dealership is committed to superior customer service and strives to provide timely and dependable maintenance solutions.
Drivers can visit the glendalenissan.com website to learn about the latest Nissan deals and vehicle services available at the Glendale Nissan dealership. For a detailed discussion, they can meet the dealership team at Glendale Nissan, 484 E North Avenue, Glendale Heights, IL 60139 or contact them by phone at 630-469-6100.