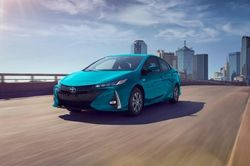 LEXINGTON, Mass. (PRWEB) May 13, 2022
Drivers in and around the Lexington area in the Massachusetts area who are planning to purchase a luxurious sedan can now rejoice. The new 2022 Toyota Prius Prime is now available for purchase at the Lexington Toyota dealership. Moreover, interested buyers can test-drive this vehicle before making a purchase.
Available with a powerful 1.8L 4-Cylinder engine, this stylish sedan offers brilliant power and performance on the road. Interested buyers can explore the 2022 Toyota Prius Prime virtually through the dealership's website or directly by visiting them in person. Drivers who love to attract a lot of attention while driving down the road will cherish this car. Additionally, the sedan offers an impressive fuel mileage economy.
Please visit the lexingtontoyota.com website to learn about the offers and vehicle deals offered by the Lexington Toyota dealership. For more details on the new 2022 Toyota Prius Prime, visit the dealership at Lexington Toyota, 409 Massachusetts Avenue, Lexington, MA 02420 or contact them by phone at 781-861-7400.