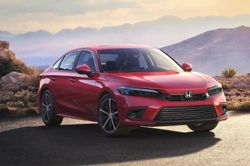 MERIDIAN, Miss. (PRWEB) January 03, 2023
Sedan drivers who want to buy a new car this year near Meridian in Mississippi can now buy one of the best-selling sedans in recent years. The latest version of the Honda Civic is now available for purchase. Drivers can now buy the 2023 Honda Civic Sedan at the Meridian Honda dealership. This new sedan is powerful, spacious and comes with a modern design language that makes it highly sporty and stands out from the rest of the crowd.
Interested buyers can visit the dealership directly and explore the 2023 Honda Civic Sedan. They can test drive the car and analyze its performance in real-time. People who cannot visit the dealership can learn detailed information about the car via the dealership's website. The new 2023 Honda Civic Sedan comes with a powerful 2.0L 4-Cylinder engine and front-wheel drive configuration. Buyers can always call the dealership to learn about the latest selling price.
Buyers can visit the meridianhonda.com website to learn about the new Honda vehicles and offers available at the Meridian Honda dealership. For more details on the stylish and sporty 2023 Honda Civic Sedan, buyers are encouraged to visit the dealership at Meridian Honda 503 Front Street Ext. Meridian, MS 39301 or contact them by phone at 601-693-4651.