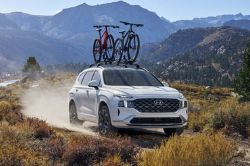 STOCKTON, Calif. (PRWEB) June 06, 2022
Drivers in and around the Stockton area in California who want to purchase a new Hyundai SUV can now do so at the Stockton Hyundai dealership. The latest 2022 Hyundai SANTA FE is now available for purchase at the dealership. Strong exterior build, broad wheelbase and high ground clearance are some of the exterior features of this vehicle.
Interested buyers can explore the 2022 Hyundai SANTA FE up close at the Stockton Hyundai dealership. There is an option to test drive as well. This helps drivers experience the vehicle in action on the road. Available with a 2.5L Intercooled Turbo engine that offers impressive engine power and performance, the vehicle is perfect for drivers who love long drives in any terrain or weather condition.
Please visit the stocktonhyundai.com website to learn about the services and vehicle offers available at the Stockton Hyundai dealership. For more details on the new 2022 Hyundai SANTA FE, visit the dealership at the following address, Stockton Hyundai, 2979 Auto Center Cir, Stockton, CA 95212 or contact them by phone at 209-227-1081.