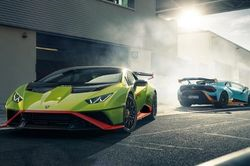 CHARLOTTE, N.C (PRWEB) January 24, 2023
Lamborghini fans planning to buy a car this year near Charlotte, North Carolina, can buy advanced and popular models at the Lamborghini Charlotte dealership. The Lamborghini Huracan has been a popular model among sports car enthusiasts. Credit for this goes to the car's impressive build, superior aerodynamics and massive performance. Drivers interested in the 2022 Lamborghini Huracan STO should check out the dealership's inventory.
They can do this in two ways. They can visit the dealership and explore the supercar in person if they reside close to the dealership. This gives them an opportunity to test drive the vehicle and analyze how it functions on the road. They can also check out the cool features available in the car's cabin. Buyers who are far can explore the 2022 Lamborghini Huracan STO via the dealership's website and learn about its technical specifications and other details. The car carries a 5.2L V-10 DSI engine that delivers high-end power and performance.
Customers are encouraged to visit the lambocharlotte.com website to learn about the vehicle services and deals available at the Lamborghini Charlotte dealership. For more information on the stunning 2022 Lamborghini Huracan STO, they can visit the dealership at 6500 E Independence Blvd, Charlotte, NC 28212 or contact them by phone at 833-820-2691.