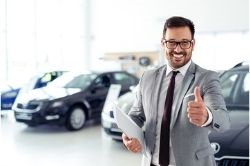 GLENDALE HEIGHTS, Ill. (PRWEB) January 23, 2023
Customers who are planning to buy a new Nissan vehicle this year in Glendale Heights, Illinois, now have the option to trade in their current vehicles at the Glendale Nissan dealership. They can exercise this option for a good price in return, which can help them with their new Nissan purchase. This enables buyers to perform two actions in one go: remove their current vehicle from their garage and earn some cash, which will help with their new vehicle purchase.
Interested buyers can verify the value of their vehicles via the dealership's website. The Value Your Trade page will gather all the necessary details and give a quote for the vehicle to be traded-in. Trading in used vehicles has numerous advantages over selling privately. Drivers can enjoy tax benefits on the purchase of their new vehicles. The dealership handles the end-to-end trade-in process, which is transparent and hassle-free.
Customers can access the glendalenissan.com website to learn about the new Nissan vehicles, Nissan deals and car services available at the Glendale Nissan dealership. For detailed information on the trade-in process followed at the dealership, they can meet the dealership team at Glendale Nissan, 484 E North Avenue, Glendale Heights, IL 60139 or contact them by phone at 630-469-6100.