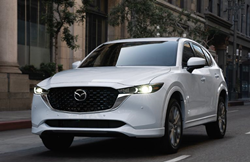 IRVINE, Calif. (PRWEB) January 30, 2023
Whether individuals are looking to cover short or long distances, they can rent a capable vehicle from Tuttle-Click Mazda, a local automotive dealership in Irvine, California. The dealership has a range of luxurious and performance-oriented sedans and SUVs to fulfill the needs of all kinds of drivers. To rent a vehicle, drivers can explore the dealership's rental vehicles page and click on the "Reserve Now" button.
Once the customers click on "Reserve Now", they can fill out a straightforward form so that the dealership's team can contact them. In the form, individuals must enter their personal details, including first name, last name, email address, phone number, location and preferred mode of communication. Drivers must also mention the type of model and the timeframe they wish to rent the vehicle for. After the customers submit the form, the dealership's team of experts will contact them with all the information.
In addition to rental vehicles, Tuttle-Click Mazda has a comprehensive inventory of new Mazda and pre-owned models for all budgets. Moreover, the dealership has a state-of-the-art service department with trained technicians to maintain and service Mazda models. Drivers interested in getting their Mazda vehicles serviced can schedule a service appointment online from the comfort of their homes on the dealership's official website. Customers can also contact the dealership's service team in Irvine, California, by dialing 866-488-0694 for further assistance.