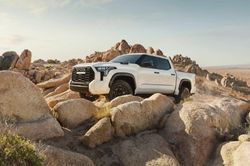 MILFORD, Conn. (PRWEB) August 05, 2022
Drivers in the Milford area who are fans of Toyota pickup trucks have great news coming their way. The latest hybrid version of the mighty Toyota Tundra is now available for purchase at the Colonial Toyota dealership. Its 2022 model is loaded with numerous performance features that help the truck easily handle off-road terrains.
Interested buyers can explore the impressive 2022 Toyota Tundra Hybrid Capstone on the dealership's website and learn more about the vehicle's specifications. People who love to own a vehicle that dominates road-less terrains should check out this pickup truck in person. They can test drive the vehicle before buying it. The available 3.5L V6 Hybrid engine offers massive engine power and enhanced overall performance.
Log on to the colonialtoyotact.com website to learn about the vehicle services and offers available at the Colonial Toyota dealership. For more information on the power-packed 2022 Toyota Tundra Hybrid Capstone, visit the dealership sales team at 470 Boston Post Road, Milford, CT 06460 or contact them by phone at 203-403-6890.