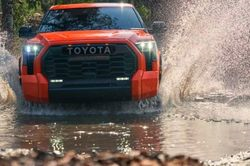 SALINAS, Calif. (PRWEB) February 10, 2023
The Tundra has been a go-to for pickup truck lovers for a long time now. This is primarily due to the solid exterior build and an array of performance-enhancement features packed into the vehicle. The latest version of this model, the 2023 Toyota TUNDRA i-FORCE MAX, is now available for purchase in Salinas, California.
Buyers can visit the Salinas Toyota dealership to purchase the 2023 Toyota TUNDRA i-FORCE MAX if they reside close to the dealership's location. This way, they can take the vehicle for a test drive. It allows them to understand and experience how the truck performs in real-time. They can also check out the new features and enhancements added to the 2023 TUNDRA i-FORCE MAX. The truck has a 4WD configuration and a powerful 3.5-liter V6 engine that delivers massive power and performance. Multiple trims of this truck are available at the dealership.
Customers can visit the toyotasalinas.com website to learn about the various Toyota offers, vehicle deals and services available at the Salinas Toyota dealership. For detailed information on the massively capable 2023 Toyota TUNDRA i-FORCE MAX, they can visit the Toyota Salinas dealership located at 700 Auto Center Circle, Salinas, CA 93907. They can contact the dealership by phone at 831-444-0700.