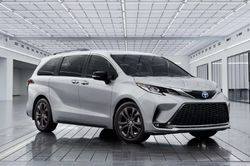 MARS, Pa. (PRWEB) February 02, 2023
Minivans are popular among families for two primary reasons: space and safety. Toyota has been a pioneer in innovation in the minivan segment. Its Sienna model is popular among family drivers. The latest version of this model, the 2023 Toyota Sienna, is now available for purchase at the Baierl Toyota dealership. Buyers who love well-built, spacious, safe and tech-savvy minivans will enjoy the 2023 Sienna.
Customers can explore the 2023 Toyota Sienna more via the dealership's detailed website. They can learn more about the minivan's technical specs and other vital details. People residing close to the dealership's location can visit directly. This enables them to test drive the vehicle and experience it on the road. While test-driving, they can check out the new features and upgrades added to the minivan. The 2023 Sienna has a powerful engine and can easily fit up to eight passengers.
Buyers are encouraged to visit the baierltoyota.com website to learn about the vehicle services and Toyota offers available at the Baierl Toyota dealership. For more details on the roomy 2023 Toyota Sienna minivan, they can visit the dealership at the following address, Baierl Toyota, 19045 Perry Hwy, Mars, PA 16046 or contact them by phone at 724-655-4309.