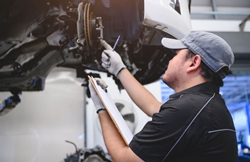 SALINAS, Calif. (PRWEB) May 17, 2022
Drivers who are looking to get the brake pads of their Toyota replaced can take advantage of the Brake Savings Event at Salinas Toyota, an automotive dealership in Salinas, California. The dealership is offering $25 off on a set of brake pads per axle. Individuals who want to use this coupon can download it from the dealership's website by May 31, 2022. Interested parties can schedule a service appointment to get brake service for their Toyota vehicles.
In addition to brake service, the dealership offers a wide range of repair and maintenance services for Toyota models. Some of the services offered at the dealership's service department include:
-Oil change
-Battery service
-Tire service
-Heating and cooling services
-Wheel alignment
-And much more!
Apart from Toyota services, the dealership also sells new and pre-owned certified Toyota models. Individuals interested in purchasing a Toyota can check out the dealership's online inventory to start the buying process. Moreover, customers can test drive the selected model to take it out for a spin before purchasing it. Interested parties can contact the Salinas Toyota team in Salinas, California, by dialing 831-444-0700 for further information.