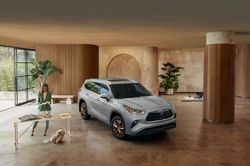 YUMA, Ariz. (PRWEB) August 04, 2022
Drivers in the Yuma area who are fond of powerful SUVs from Toyota can now be happy. The new 2022 Toyota Highlander XLE is available for purchase at the Alexander Toyota dealership. People who want to own an SUV that is loaded with cutting-edge technology and safety features should check out this vehicle in person.
Interested buyers can virtually explore the 2022 Toyota Highlander XLE via the dealership's website. The inventory page has all the necessary and relevant details of the SUV. Before confirming a purchase, drivers have the luxury of test-driving the vehicle they have chosen. This will help them experience their to-be vehicle in action. For further details, the sales team available at the dealership is just a call away.
Please visit the myalexandertoyota.com website to learn about the vehicle services and offers available at the Alexandar Toyota dealership. For more information on the power-packed 2022 Toyota Highlander XLE, visit the dealership at 889 E 32nd St., Yuma, AZ 85365 or contact them by phone at 928-344-1170.