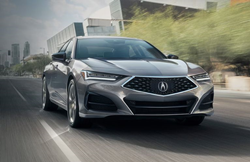 DUNCANSVILLE, Pa. (PRWEB) January 23, 2023
Customers near Duncansville, Pennsylvania, who are in search of affordable and top-quality used Acura vehicles should check out the pre-owned vehicle inventory at Blue Knob Auto Sales, a reputed used vehicle dealership in the area. Currently, the pre-owned 2020 Acura TLX is available at a selling price of $26,998 at this dealership.
Acura is one of those luxury automobile brands that are known for its reliability down the road. Acura cars not only perform well on the road, but they also continue to hold up well even after many years and miles. The used 2020 Acura TLX available at Blue Knob Auto Sales comes with a 2.4-liter, four-cylinder, engine and front-wheel drive system. It has an automatic transmission and a Platinum White Pear external paint color. Other key features of this premium sedan include leather seats, adaptive cruise control, dual power heated seats, a collision alert system, a moonroof, a 7-inch touchscreen display with Bluetooth™ technology, Apple CarPlay® integration, a backup camera and 17-inch alloy wheels. The online inventory at Blue Knob Auto Sales keeps getting updated frequently and hence prospective buyers are recommended to keep an eye out for the latest inclusions in the inventory.
Interested parties are encouraged to drop by the Blue Knob Auto Sales used car dealership located at 2860 Route 764, Duncansville, Pennsylvania, 16635. Customers can also schedule a test drive online and contact the dealership staff by dialing 814-695-1387 for any further inquiries.