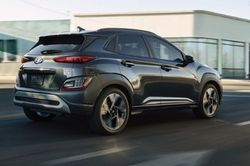 MUSKOGEE, Okla. (PRWEB) November 09, 2022
Compact SUV lovers near the Muskogee area in Oklahoma who are planning to purchase a new vehicle this year have great news. Hyundai has released the latest version of its popular Kona compact SUV. The 2023 Hyundai Kona is now available for purchase at the James Hodge Hyundai dealership. Drivers who want vehicles that can easily handle city traffic should check out this compact SUV.
Interested buyers can explore the 2023 Hyundai Kona in person by visiting the dealership. They can test drive the vehicle and experience it on the road. This allows drivers to check out the features and upgrades available in the compact SUV. People who are unable to visit the dealership can browse the dealership's website and learn the technical specs of the 2023 Hyundai Kona. The dealership's inventory carries numerous trim levels of this compact SUV.
Log on to the jameshodgehyundai.com website to learn about the various Hyundai vehicles and deals available at the James Hodge Hyundai dealership. For detailed information on the compact 2023 Hyundai Kona, kindly meet the dealership team at James Hodge Hyundai,1330 North Main Street, Muskogee, OK 74401 or contact them by phone at 833-331-0067. The dealership team is always ready to assist its customers.